Rising to the challenge of setting up shop in the early weeks of the pandemic, Chorlton Cheesemongers has rapidly become an award-winning business championing the best of British producers.
The Manchester-based shop is the brainchild of managing director Chris Hallam and cheesemaker Graham Kirkham, the third generation of the family behind the Mrs Kirkham's Lancashire Cheese business.
The pair met when Chris, then studying for a master's degree at London's Birkbeck University, took a part-time job at Neal's Yard Dairy in Borough Market. As a supplier to Neal's Yard, Graham makes regular visits to their shops and maturing rooms.
They stayed in touch when Chris returned to the north west, and the business was born when Chris was thinking about a career change and Graham was considering a regular market stall as an additional outlet for Mrs Kirkham's.
Having lived in Manchester for more than 20 years, Chris felt there was an opportunity in the city for a specialist cheesemonger focused on small producers.
"Though there are some amazing cheesemakers in the north west, they are not greatly represented locally, with most cheese shops and delis offering a broader range of international and mass-produced imports," he explains.
With encouragement and an offer of support from Neal's Yard, the idea of opening a permanent retail outlet was on its way to becoming a reality.
Chorlton, a suburb of Manchester described as having a well-established quality food and drink culture, was eventually selected as the ideal location. The area was already home to other long-established food businesses including organic vegan co-operative food store Unicorn Grocery and Out Of The Blue Fishmongers.
Having found a site on Wilbraham Road, the business partners went on to realise their vision of a traditional cheesemonger that allowed the products to showcase themselves.
"We are one of the few locations in the UK purpose built with whole-shop refrigeration, so cheeses can be kept, displayed and tasted by the customer at their very best," says Chris.
While simplicity and a natural feel were key elements, space also had to be found for specialised equipment such as gravity coolers and cold storage to enable full control of temperature and humidity throughout.
"It was vital that the cheeses could be viewed in all their natural glory without the barriers of commercial chiller units and plastic wrappings," says Chris. He adds that sustainability is a core element of the business, including the use of repurposed, sustainable and low-carbon materials in the shop design.
Two weeks into refitting the site the first coronavirus lockdown was announced, and the shop's 'grand opening' took place under the strict restrictions of April 2020.
"As you can imagine, things have shifted considerably since then," says Chris. "We have moved from having single people in the shop, with click & collect and home delivery, to a bustling high street favourite, firmly established as part of the Chorlton retail community."
'Cheeses have to taste exceptional to earn a place on our counter and match the quality of those they will share space with'
When it comes to sourcing, the business is focused on the best-quality artisan and farmhouse cheeses of the British Isles and Ireland.
"They have to taste exceptional to earn a place on our counter and match the quality of those they will share space with," says Chris.
The business focuses on independent producers that it can build a personal relationship with, which keeps the chain between the supplier and the customer as short as possible.
"Their scale of production also has to be small. We don't take industrial mass-produced products, and it is rare you will find anything in our shop that you can find on supermarket shelves."
The business also looks for cheeses made from single-source milk.
"We only consider cheeses made from small herds that are predominately grass fed, with complete traceability from pasture to plate. We source locally and champion local producers wherever we can."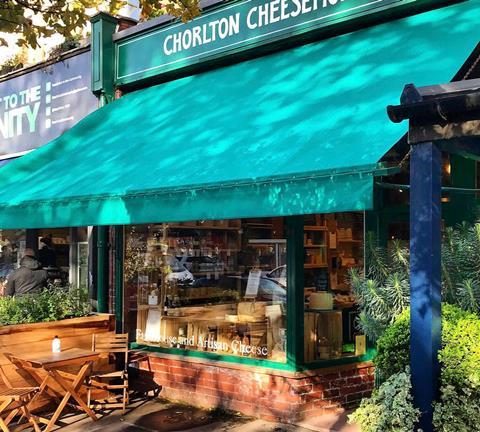 The range is kept relatively small so the shop can personally represent makers, with around 10 new products or lines introduced each year. 'Meet The Maker Days' give customers the chance to get to know the producers.
"We set out a tasting stall under our front awning, and customers can speak directly to the maker of the cheese they are eating, hearing their stories, comparing different maturities, and asking any questions they might have," says Chris. "It's really important to us to connect the customer to the cheese they're buying, know their provenance, and understand what makes them truly world class."
He adds that, sadly, some of the shop's producers have closed their businesses in the past 12 months. "It has been, and remains, an incredibly challenging time for small producers, particularly with energy costs."
'We are at the stage where we are looking at how we continue to grow, which is a lovely position to be in'
The shop site was selected so the business would have room to grow into it, which it has done as trade has increased. A room originally planned as a tasting room and small events space has been allocated for preparation, packing and storage. The workforce has grown from its original three to seven and will increase to 15 for the Christmas period.
"We are at the stage now where we are looking at how we continue to grow, which is a lovely position to be in," says Chris.
And the success of the business has been recognised, with it named North West (Small) retailer of the year in the 2023 Farm Shop & Deli Retailer Awards. The win has boosted the visibility of the business.
"We have seen an upturn in footfall, social media engagement and online orders as well – so many positives," says Chris.
"It was such a boost for us and the whole team – having that outside recognition for all the work the shop staff, our suppliers, cheesemakers, community and customers have done to make Chorlton Cheesemongers what it is, it's really wonderful."