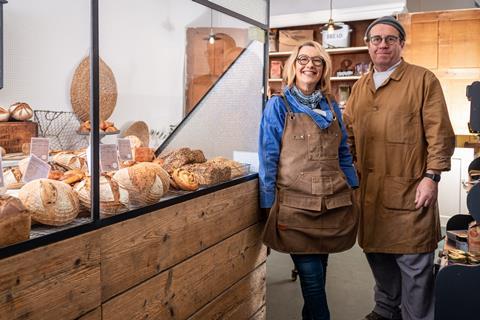 Lovingly Artisan, a sourdough specialist in Cumbria, has been named the best artisanal bakery in Britain.
Located in Kendal, at the edge of the Lake District, the winning bakery topped a list of the country's 13 best artisan bakeries, as compiled by The Grocer's sister title British Baker.
The list was compiled after more than 100 industry specialists, including bakers, consultants, suppliers and lecturers, voted for their favourite high-end bakers from across Britain. An artisanal bakery was defined as one in which baked goods – such as bread, buns, pastries and cakes – are made by hand, often utilising longer, traditional processes and high-quality ingredients.
The final shortlist of 13, named the Bakers' Dozen (see below), was revealed at the first meeting of The Artisan Collective, an initiative created by British Baker to celebrate specialist baking's people and businesses.
Number one selection Lovingly Artisan uses organic and heritage grains to make products including Ancient Emmer & Kombucha Sourdough, Malted Barley Tin Loaf, Danish Rugbrød, saffron buns and Kalamata olive focaccia. It also offers a nationwide delivery service online, for which baked goods are mixed, shaped, proved and baked to order.
The business is run by married couple Aidan Monks and Catherine Connor, who work with growers and millers of organic, stoneground and heritage-grain British flours to create what it describes as tasty, nourishing, natural breads that have provenance and integrity.
Lovingly Artisan and the rest of the Bakers' Dozen celebrated "the best of the best" in specialist bakery, said British Baker editor Amy North. Each had been recognised "as a beacon of dedication, passion, and skill, as demonstrated through lovingly handcrafted products and the people who make them", she added.
The Artisan Collective 2023 Bakers' Dozen
Lovingly Artisan, Kendal
The Street Bakeshop, Basingstoke
E5 Bakehouse, London
Bread Source, Norwich
Bread Ahead Bakery, London
Northern Rye, Newcastle upon Tyne
Poppyseed Bakery, Eastbourne
Peter Cooks Bread, Hereford
The Dusty Knuckle, London
Pollen, Manchester
Fabrique, London
Levain & Cherry, Birmingham
Freedom Bakery, Glasgow