Peanut butter brand Heart & Soul can trace its origins to a gym in London's South Kensington.
It was there, in 2010, that pastry chef Asli Gokturk went looking for a personal trainer and found one in Adem Garip. The two became romantically involved and discovered they shared a love for peanut butter.
"I was buying kilos of peanut butter because of my work as a trainer," says Garip. "We need so many calories, so I was eating a lot of peanut butter but would get bored because most is just peanuts and salt."
The couple decided to beat the boredom by using Gokturk's culinary experience – including working with Gordon Ramsay and at The Lanesborough Hotel, London – to create their own peanut butter.
Healthiness was a big factor in the development of the recipe, which includes pink Himalayan salt and organic yacón syrup, a low-GI sweetener. It also uses medium chain triglycerides (MCT) oil, which is easily digested and quickly turned into energy.
"MCT is a usable fat and, although it is an expensive ingredient, it is really healthy for your body," says Garip, adding it also makes Heart & Soul peanut butter particularly creamy.
The couple were especially selective in their choice of peanuts, sampling more than 20 varieties.
"We use only whole blanched single-origin peanuts from Córdoba in Argentina," says Garip. "The nuts have to be whole blanched, so there is no skin or bits to make the peanut butter taste bitter. We always buy the same peanuts to keep the quality and taste the same."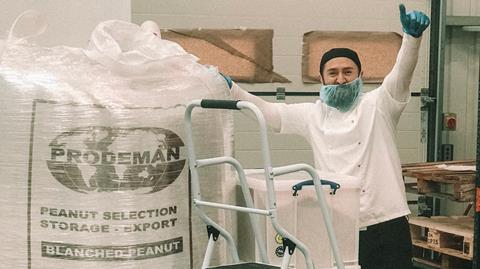 For many years, the couple made the peanut butter for their own use only, with Garip continuing to work at the gym and Gokturk running a home catering business. But when the pandemic struck, he found himself out of work and she was forced to halt her operation.
"Suddenly, we were sitting at home," Garip says. "So we said, why don't we do this peanut butter that we use at home?"
A big concern for the couple was the ingredients many shoppers wouldn't recognise, such as MCT oil, but they eventually decided it was better to use their own recipe than emulate major players.
"All these companies, they are only doing salt and peanuts, and they believe that's the only way you can sell peanut butter," Garip says. "But we said, no, we're going to do it differently."
The couple chose the name Heart & Soul – "because we're putting our heart and soul into this product" – and set about producing the peanut butter in larger quantities from their home in Greenwich.
"We only had one oven so we bought another, and a little table and a blender," says Garip. "Even with the second oven it was taking five hours to cook 20 kilos of peanuts."
With production slowly under way, the next step was securing stockists. Jarring, labelling and boxing the products themselves, Garip and Gokturk began selling their peanut butter direct to shops in and around London – at the height of a global pandemic.
Although the first few weeks were slow, by the end of May 2020, the brand's first month of trading, the peanut butter was available in nearly 40 organic stores in the capital. "We were so happy that people were buying it, and by November we had around 100 stores selling us."
With increased demand came the need to expand, and the business took out loans to take on a warehouse, and then a factory in January 2021. It also secured approval from SALSA, a food safety certification scheme for smaller suppliers.
Getting wholesale and major retailer listings was the next step for the brand. That was difficult at first, Garip admits. "They told us peanut butter is a very busy market, and that we didn't have much marketing. Even when we told them we are outselling other brands in the small shops, we kept hearing no."
By summer 2021, however, the business had secured its first listing with a wholesaler. More have followed. Now, Heart & Soul is also selling well through Amazon, while continuing to supply stores in London and farm shops further afield.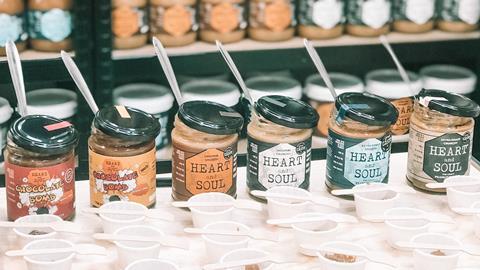 The brand has also ramped up its marketing activity, which was primarily through social media until this summer.
"We advertised in Men's Health and Women's Health magazines in June, thanks to some funding from an angel investor," Garip explains. " We're getting more attention, with more people buying and trying our products."
Awards success has also helped raise the profile of the brand, with two wins for Heart & Soul in April at The Farm Shop & Deli Show product Awards. Its Extra Roast Crunchy Peanut Butter bagged a gold award, while a bronze gong was given to Chocolate Bomb Crunchy. The latter variant uses non-alkalised cacao for its nutritional benefits over processed cacao, and is sweetened with yacón syrup.
"We are always confident going into awards because we really believe our product is tasty. We never hear that people don't like our products," Garip adds. "We could have gone for a cheap solution to make chocolate peanut butter but decided that, if we're going to be the healthiest peanut butter, we've got to use the healthiest ingredients."
Looking ahead, Heart & Soul is exploring the development of other nut butters including almond and cashew, and is considering branching out into the snacking market.
"Peanut butter is a slow sell, as it will take people a week or more to use a jar," explains Gokturk. "Snacks have a much faster turnover, which would be really helpful for our business."
The brand also has its sights firmly set on larger retail listings, having narrowly missed out on an Ocado deal.
Garip and Gokturk remain confident their brand offers something othewise lacking in the spreads market.
"All the big brands ever talk about is their taste," he says. "We taste great too, but there's also much more to us. The path you choose should fill your heart and your soul."