Since the pandemic took hold, farm shops, delis and specialist retailers have gone above and beyond. They have done their utmost to support local communities, charities and suppliers.
From the earliest days of Covid, their agility and short supply chain enabled them to do what larger retailers could not: deliver essential, staple products to the most vulnerable people.
And, as the panic of the early days of lockdown eased, these business set about evolving for longer-term trading, adapting retail spaces, improving online operations and finding new ways of helping those in need.
It is this ingenuity and community spirit that has been recognised by this year's Farm Shop & Deli Retailer Awards, held by William Reed Business Media, publisher of The Grocer.
Awarded by region, the 2021 accolades recognise retailers for the commitment shown to customers, community, staff and suppliers. A shortlist of 153 businesses was whittled down to 39 commended retailers, from which nine winners have been selected.
"The Farm Shop & Deli finalists have illustrated how crucial they are to their communities," says chairman of judges Nigel Barden. "This includes dedicated online businesses, which have witnessed huge growth, and traditional retailers, who increased their online offer.
"But it's the stories of innovation and imagination way beyond these that took our judges' breath away," he adds. "Florists who became greengrocers, farmers who loaded their trailers to deliver to the vulnerable, providing a human face and voice to the isolated.
"It has put independent retailers right back in the heart of their communities, with an increased appreciation from grateful shoppers."
The 2020 Farm Shop & Deli Retailer Awards winners
Click on the retailer's name to read how it adapted to trading under the pandemic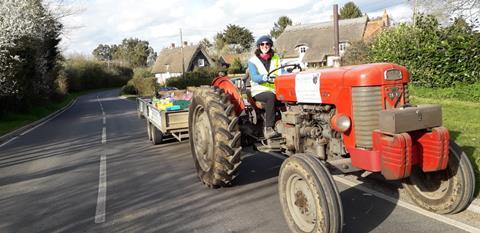 Winner: East Anglia
Barron's Mobile Shop, Chappel
Before 2020, Barron Farm ran a shop for just three days a year, selling local produce alongside own home-reared turkeys and pork products each December. Then came the pandemic.
With supermarket shelves emptied due to panic-buying and supply issues in the early days of the outbreak, one customer asked whether the farm could open the shop to supply local people.
But rather than open the shop, the business decided to load a trailer with fruit, veg, crisps and some frozen leftover meat from the Christmas shop.
Within two days, owner Sarah Barron was on the road in a 1960s tractor with a trailer full of produce, visiting three villages that did not have local shops.
"Some customers said I was the only person they saw each week," she says. "I have provided this service to people of all ages, but it is perhaps the older generation who have benefited the most from it. I've been able to supply food in areas where there is limited bus routes and no other shops."
As time went by, stock was expanded to include locally sourced meat, pies, cakes and bread. In August, the tractor and trailer were replaced by a refrigerated van.
The delivery area has been extended to include another local village, and Barron now serves around 200 customers each week over a four-day period. The van's route is publicised on Facebook.
"I have never had any supply issues and have never had to limit the amount of stock customers purchase as I can order fruit & veg daily," says Barron. "I provided a new outlet for my suppliers when their usual venues such as schools, pubs, restaurants and cafés have been shut."
Almost everything is sold individually, right down to sprouts, which Baron says has enabled those living alone to buy only what they need.
"They bring their own bags and I recycle all of the cardboard boxes the produce comes in. Ordering daily has meant I have almost no food wastage."
The judges said: "A remarkable entry. Turning a three-day December farm shop into a viable business, much appreciated by the community and supplying nutritious produce is pretty special, and is a great example of rapid improvisation and reacting to customer needs. No stock problems, or wastage. Like something from The Darling Buds of May, but with Instagram."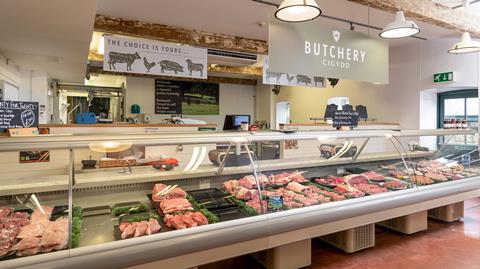 Winner: Wales
Bodnant Welsh Food, Tal-y-cafn
By supporting the mental and physical health of its community,.Bodnant Welsh Food has gone far beyond the traditional role of a farm shop.
When the pandemic struck, the business launched a delivery service to help its most vulnerable customers. And it expanded its range so customers could get products – from rare breed local pork to toothpaste and shampoo – delivered to their front door.
"For some of our customers, we were the only social interaction they had, and we realised our customers were as dependent on us to deliver a good service as we were on them to keep our business running," says director Tilly Reynolds, adding the business acted as a friend when customers needed them the most.
Last summer, as restrictions eased, Bodnant Welsh Food went a step further by launching a wellness and wellbeing programme, which included chair yoga and all-male pilates classes.
"We have received local recognition from our MP for the work we have done for the mental and physical health of our community," says Reynolds. "This safe space we have created has allowed many to feel comfortable to leave their house and engage in some form of social interaction."
Recognising the peril many local businesses were in as the second lockdown was imposed last summer, Bodnant Welsh Food created a Facebook page called Support Local Shop Local. It enabled smaller businesses to promote themselves and communicate with others in a similar position.
"We have tried to use this pandemic to adapt our business to best suit our local community," says Reynolds. "Whether it is simply going out of our way to get a specific product or taking an extra five minutes to carry out our deliveries to chat to a customer, this pandemic has highlighted that for many we are much more than just a farm shop."
The judges said: "This entry puts an emphasis on what they can offer to benefit their customers' and community's wellbeing. They clearly value their local community, suppliers and shoppers alike, and are proud to be a beacon of their area."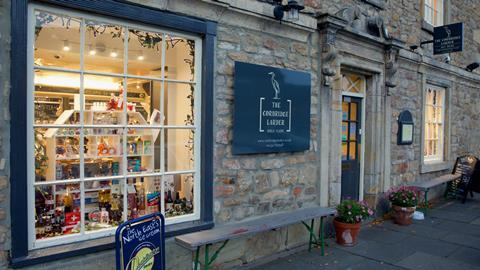 Winner: North East
The Corbridge Larder, Corbridge
Supporting key workers and local families has been a big part of The Corbridge Larder's activity during the pandemic.
Working with local author LJ Ross, the business provided much-needed provisions to NHS key workers, who faced empty shelves in supermarkets at the start of lockdown.
"Via Facebook, we got our followers to nominate key workers for us to surprise with goodies," says owner Jennifer Horton.
And that was just the start. The shop went on to contact the eight care homes in and around Corbridge, and then delivered bulk provisions for staff to share out.
Also, over two months, the business delivered groceries to 48 families in deprived areas, ensuring the packages included treats for children as well as ingredients to make nutritious meals.
"The feedback was that the families loved cooking together, some for the first time," says Horton. "Other feedback was that we were literally lifesavers, with families bursting into tears, which was so very humbling."
In addition to the special deliveries, the Larder offered a free delivery service to customers in the village and surrounding area. It expanded its product range with fresh fruit & veg, household goods and animal food to try and be a one-stop shop for customers who could not get to the supermarket.
The Larder used lockdown to push its online business, working with the local council and a local digital marketing company. When restrictions eased, "we worked with our team every step of the way as our view was that if our staff felt safe at work, our customers would also feel safe coming into the Larder" says Horton.
"Our policy has worked, with fantastic feedback from customers saying we take Covid seriously and are the best place to come and shop and feel safe."
The judges said: "This entry was a bit of a tear-jerker! I was so impressed with the support and outreach – especially the care homes and the families who got to cook together. This shows kindness and consideration to the community and to their staff."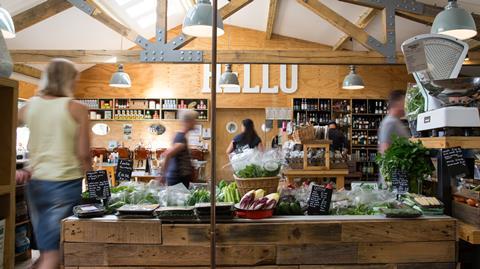 Winner: South East
Eggs to Apples Farm Shop, Hurst Green
When lockdown struck in March 2020, Eggs to Apples Farm Shop in East Sussex shut its doors for just 24 hours.
Closing its florist, café and other 'nice to haves', it introduced PPE, one-way systems and social distancing rules.
Like many independent retailers, the business found its direct supplier relationships meant it could keep its shelves stocked while supermarkets struggled with staples such as flour, eggs and yeast.
A newly created delivery service attracted 100 in just a week, with the business receiving grateful feedback from vulnerable people who had been unable to secure a supermarket delivery.
Eggs To Apples also donated fruit to staff at the local hospice, while a weekly delivery of unsold produce was sent to food bank Dom's Food Mission.
With the easing of lockdown during the summer, the business reopened its outdoor café seating and introduced pop-up food tracks that it says exuded "almost a festival feel".
In preparation for the winter, the business built permanent weather covers for customers and for delivery drivers to unload safely.
Unable to hold Christmas tastings or events due to restrictions, Eggs To Apples rolled out a festive online shop with timed collection slots, while increasing its gift and hamper range.
"Christmas was manic," says owner Susannah Hewett. "We were overwhelmed with the support for shop local."
The judges said: "This entry highlighted the struggles and successes through the past year. There were innovative ideas to keep both staff and shopper spirits high. We loved the can-do attitude from Eggs to Apples, and this entry was a joy to read!"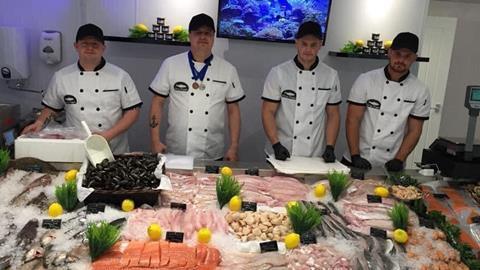 Winner: Scotland
Pro Fish Services, Aviemore
As a wholesale and retail supplier, Pro Fish Services saw 70% of its trade disappear overnight when the first lockdown was announced.
Based in Aviemore and servicing a large area of the Highlands, the business concentrated on doing something the supermarkets were struggling to do: delivering promptly to remote areas.
It developed boxes of vacuum-packed products suitable for freezing. They were delivered to customers' doors within 48 hours. With elderly consumers in mind, they included individual portions.
Pro Fish sold thousands of these boxes and developed a website that enables consumers to make up their own boxes.
During lockdown it continued to supply hospitality business that had switched to offering takeaway service, delivering any amount they required to minimise losses. Pro Fish supported the smallest first and also added several independent Highlands and Islands fishermen to its supplier lists.
Beyond the delivery service, its work with the local community included partnering with a wholesale client to support staff laid off by a hotel. The wholesaler offered shelter while Pro Fish fed them.
And, in a move that proved a lifeline for some businesses, Pro Fish organised mini food markets at two small villages.
"We brought in meat, game, chocolate and veg alongside our fish on a weekly basis," says Pro Fish director Stephanie MacQueen. "Those businesses have stated this move saved their livelihoods and we continued with the mini markets, which are well supported by the locals."
Now the business works with farm shops by selling their products in its store and promoting them on social media.
"We also recommend small suppliers to our hospitality customers when they are looking for high-quality products and they do the same for us – collaboration is at the heart of everything we do," adds MacQueen.
The judges said: A great business that has adapted a hospitality-led business and gone above and beyond to the extent of feeding members of local community who lost their jobs due to Covid. They also supported local smaller suppliers and had creative ways of getting food to customers."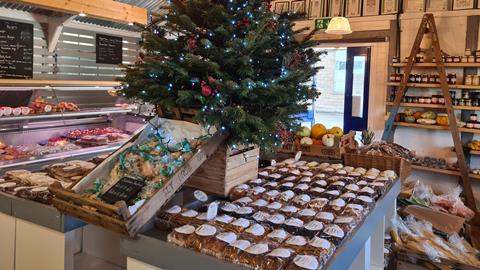 Winner: North West
Seasons Bakery, Ingleton
North Yorkshire's Seasons Bakery had been planning for a quiet 2020. Business was booming. And husband and wife team Dan Nemeth and Charlotte Scott had a baby on the way.
Two weeks after their son, Issac, arrived, lockdown was declared and business changed overnight.
"From day one, we kept staff and customers in the loop," says Scott. "We were very honest and open about everything."
As supermarkets and local shops either shut down or ran out of staples, Seasons set up an online shop, and its staff baked, sourced fresh fruit & veg and delivered food to the local community.
"We used our resources to find everything people needed and sold it all at cost," Scott says. "We went from a bakery working 5am to 5pm to a 24-hour farm shop producing baked goods and stocking everything customers could need, including pasta and loo roll!"
During lockdown, Seasons took on 20 additional local staff members, many of whom had lost income due to Covid. The bakery also worked closer with its suppliers, as many had almost completely lost all trade.
That led to cheese unfit for retail sale being baked into bread. Seasons also sold cheese through its shop and used local produce suppliers.
Supporting those in need became a focus. Alongside its usual production, Seasons made loaves and baps that went straight to charity, donating thousands of loaves of bread and losing count of the number of hampers, cakes and other products sent out.
Hundreds of biscuits were baked at Easter for local children, with Nemeth handing them out while walking through the village dressed as a bunny.
"From all our hard work in 2020 we have become four years ahead in our business plans and currently have no plans to slow down," says Scott.
The judges said: "Seasons clearly have a passion and care about people the way they approached everything in lockdown and with a new baby in tow. The bunny rabbit, selling at cost, creating jobs for those who had lost them. buying from producers who had lost their business. All these aspects are commendable."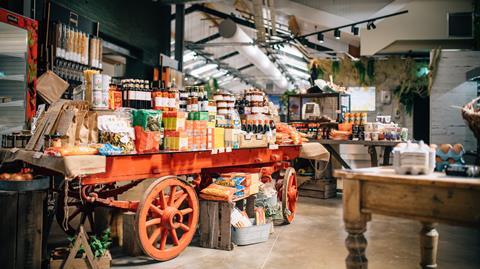 Winner: Midlands
The Farm Stratford, Stratford-upon-Avon
Lockdown was tough for every business, but how do you handle it if yours is only 11 months old?
For The Farm Stratford, the response was to move its entire farm shop/food hall online by building an e-commerce store in just five days.
Introducing home deliveries and contactless collections from the car park, it sold fresh produce, meat, baked goods, deli items and food packages. On its busiest day, it made 120 deliveries.
It also worked with local care homes to provide the elderly with wholesome food packages, and delivered group parcels to village halls in the area.
A host of initiatives was introduced on site, including social distanced picnics with 20 four-metre-wide circles painted on the lawn. The business also turned its shepherd's hut into a takeaway/street food operation for customers to dine al fresco.
The Farm used social media to encourage customers to keep fit via Wellness Wednesday. Fitness instructors would conduct online live fitness sessions, and the business regularly posted its Favourite Farm Walk to Work so customers could walk the journey too.
All staff, whether furloughed or not, were signed up to a fitness and wellbeing app, allowing them to tune in and participate in yoga, pilates and workouts.
With lockdown completely transforming the supply chain, The Farm worked closely with local, smaller suppliers to help one another.
"The transparency of adapting our business and our suppliers' businesses in order to keep afloat during the pandemic has helped build stronger relationships," says director Charlie Wells. "This has helped with orders, smaller more regular deliveries, payment terms etc, which hugely helps both businesses."
He adds that the pandemic has also helped with team building. "The staff that truly care and are passionate about The Farm have really stood out. We are super proud of every single team member involved in the business and its future."
The judges said: "An outstanding entry for a young business, with picnic circles, walks, yoga classes, outdoor dining and yoga. All very, very impressive. They're clearly working hard to make the site a destination."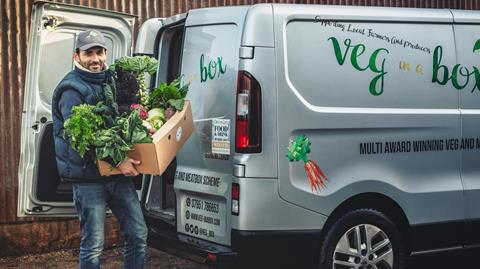 Winner: South West
Veg In A Box, Exeter
Many businesses did not feel the impact of the pandemic until lockdown was declared on 23 March 2020. But vegetable box supplier Veg In A Box was aware of changes in the market weeks earlier.
"From the beginning of March, we experienced a huge influx of orders from panicked customers concerned they wouldn't be able to get their usual orders," says co-founder Julie Corcutt. The business also attracted new custom from shoppers who couldn't get supermarket deliveries due to their remote location or lack of availability, she adds.
The response of Veg In A Box was to employ eight new staff, some of whom had lost their jobs due to the pandemic, so it could deliver to anyone in the south west regardless of location. It also extended its product range with essential lines including toilet paper and handwash.
Helping the elderly was a key concern. The business set up a telephone ordering line for shoppers unable to use the website. A special 'Pensioners' veg box was developed to offer items favoured by elderly customers, including scones and jam. In turn, that helped keep a jam producer afloat. Staff made a point of keeping an eye on some of the more vulnerable customers.
The past few years, and particularly 2020, have not been plain sailing for the business, Corcutt says. But she feels Veg In A Box has now reached its goal of providing simple, local and affordable veg boxes.
"With perseverance, hard work and absolutely no holidays, we've built a successful online business that caters to our lovely local customer base who we feel privileged to know and would always go the extra mile for."
The judges said: "They grabbed the situation and hit the ground running. Their website is really good, with useful links to other sites, such as financial support for struggling families. They're highly regarded and their photography on digital media is amazing. An above-and-beyond service."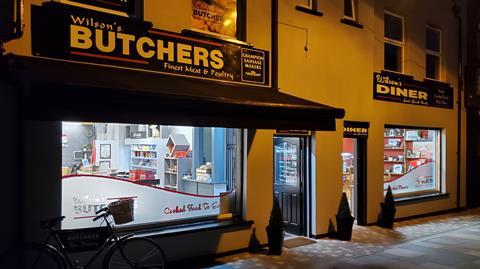 Winner: Northern Ireland
Wilsons Butchers, Downpatrick
John Wilson took over this family butcher's shop in Downpatrick, Co Down, just weeks before the first lockdown was declared.
The business was founded by his father 25 years ago, with Wilson working in it for 20 before taking the reins in February 2020, when his father retired.
"There was just myself in the shop trying to make a wage, and the news of Covid and lockdown was so worrying," Wilson says. "I knew I had to do something quick if I didn't want the shop to close after my dad kept it going."
Determined not to let that happen, Wilson bought a second-hand van and asked a friend who had lost his job to make some deliveries. Selling good-value meat packs promoted through social media, the delivery business grew.
Money from the deliveries was ploughed back into the business. Wilson had a website built, and had the shop remodelled to make it safer to operate under pandemic conditions. He also employed local people who had lost their jobs.
Keen to give something back to the community, Wilson donated meat vouchers to local food banks. He also supplied meat to organisations that made food parcels for families in need. And the business put free eggs into every delivery order, asking the customer to pass them on to anyone who needed them.
"We always did some cooked products and we pushed this and cooked dinners for free for the elderly and did kids' packs free to families who needed them," says Wilson.
Wilsons has been transformed since lockdown struck, taking over the shop next door to open a diner and deli. It now employs seven people and delivers across Northern Ireland.
Growth has given Wilson the freedom to buy all local products, taking on 10 new small suppliers.
"I will be the first person to say Covid saved my business and I will never forget the pain it has caused other business and families in our area," he says. "At Christmas, I gave selection boxes to the local cancer ward and over £1,000 in vouchers to people who needed them.
"The groundwork was done by my dad and built by the local community and I hope to be able to repay the community in the same way they helped me."
The judges said: "In such a short space of time the business was completely transformed and modernised to create a real asset to the community. Charities and the local community have been looked after and online opportunities have been maximised, but he hasn't strayed from the heart of what a great local butcher should be. Absolutely heart-warming work."
The Farm Shop & Deli Retailer Awards winners were to have been announced on this month at the Farm Shop & Deli Show, held by The Grocer publisher and awards organiser William Reed Business Media. With the event forced to postpone due to coronavirus restrictions, each winner received a surprise package via courier notifying them of their success.
Farm Shop & Deli Show 2022 returns to the NEC from Monday 25 April to Wednesday 27 April 2022. For more information visit the event's website.