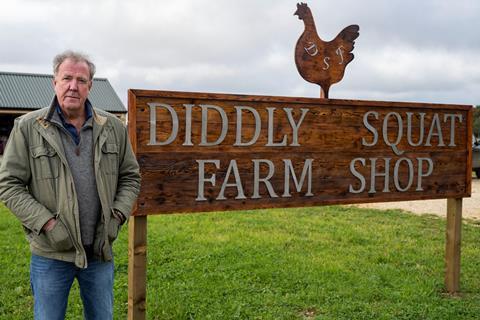 Former Top Gear host Jeremy Clarkson has opened a shop on his 1,000-acre farm in the Cotswolds.
Viewers will see how he copes with running it in new Amazon Prime series 'Clarkson's Farm'.
It follows a year in the life of Clarkson after he decides to run the farm, which he named Diddly Squat in low expectation of its productivity.
He had lived on the farm for years but had no agricultural experience. "We had it for all sorts of inheritance tax reasons," he said.
"The farm made no money. It didn't cost any money, it was just a nice thing to have. It was run by a chap from the village who was a farmer, and then when he was retiring, I suddenly thought, 'I can do that'."
Opening the Diddly Squat Farm Shop was a way of supplementing the low income from farming, Clarkson added.
However, some local residents weren't happy with the plan, he said. "A handful of locals didn't like having a farm shop nearby, which I can't quite understand. If we'd built a nuclear power station I could understand their concerns, but not a tiny farm shop. I'm not quite sure what their beef is, but they don't like it."
Despite the objections, the shop has been doing a strong trade in local produce including eggs, milk and honey.
Clarkson, who fronts motoring TV show The Grand Tour, said his girlfriend Lisa Hogan had built up a great relationship with local suppliers. And she explained she had come to love haggling with them. "That part really appeals to me, especially because it was the first lockdown, and it really was batten down the hatches," said Hogan.
"Having chats, meeting new people over the phone, and then getting to know all my suppliers up at the shop was a joy. I really enjoyed getting to know the locals and all my local suppliers and working together."
On a Q&A video posted on The Grand Tour Fans YouTube channel, Clarkson described the shop as being "very small, about 20 feet by 10, so it's not exactly Daylesford". Although he has worked behind the shop counter, he was "sort of banned" from doing so again, he said.
"I'm not very technical and everything is done on an iPad, which means that when I'm behind the counter nobody really pays for anything."
'Clarkson's Farm' starts on 11 June on Amazon Prime Video.