Harvesting wild seaweed has enabled New Wave Foods to build a brand, Shore The Scottish Seaweed Co, and farming the plant is set to take the business to new heights
Seaweed has long been heralded a superfood, but a major hurdle for suppliers has been giving it mainstream appeal.
It's a hurdle Shore The Scottish Seaweed Co seems to have cleared with its seaweed crisps, which are made with a blend of grains and seaweed supplied by its Wick-based owner, New Wave Foods.
Shore is stocked by a range of wholesalers and retailers including Co-op and Sainsbury's in Scotland, and recently became part of a meal deal in 61 WH Smith travel sites. It has also secured major overseas listings.
These are the latest steps in a six-year journey by Peter Elbourne and Keith Paterson, who founded New Wave Foods to develop commercial opportunities around seaweed.
In addition to producing Shore-branded products, New Wave harvests and processes seaweed and supplies it as a dried ingredient to a wide range of commercial customers.
Elbourne, the company's MD for supply & operations, trained as a marine biologist before moving into consultancy. He has worked for businesses including salmon supplier Aquascot, and it was while researching new business ideas for the firm that he became interested in the opportunities around seaweed.
Paterson, MD of the Shore brand, studied economics and marketing and worked for businesses including jams supplier Mackays before he joined Aquascot as commercial manager.
The pair formed New Wave in 2015, with the business going into production the following year, harvesting seaweed from the coastline around the far north of Scotland.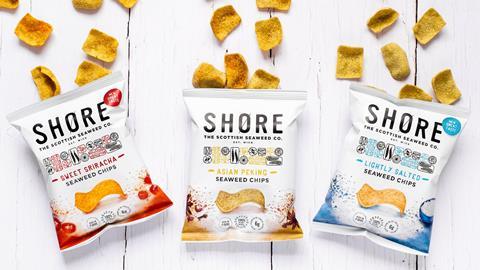 "There was a proof-of-concept phase because the seaweed industry has existed in the UK, but very much in a cottage scale," says Paterson.
A key challenge was exploring whether supply could be scaled up to become a worthwhile business. This included looking at harvesting wild seaweed and farming the plants, and the strategic advantages Scotland has in terms of infrastructure and clean waters.
Another challenge was bringing innovation to the seaweed sector and widening demand beyond the traditional customer base of foodies and healthy eaters.
To this end, the supplier launched a range of seaweed puffs in 2018. With better-for-you positioning, they attracted good initial buy-in. But they didn't deliver well enough on flavour, admits Paterson.
"More people than you would assume will buy and try seaweed products, particularly in a category like snacking where there's a lot of impulse purchase, but if someone's first interaction with seaweed isn't perfect you're going to struggle," he says.
New Wave went on to develop the chips range, which, in addition to its UK listings, is being rolled out to 300 Delhaize stores in Belgium and is being trialled by the Migros supermarket chain in Switzerland.
"A lot of European retailers are now looking at healthy snacks in a way they've not before," says Paterson. "We've found they've been quite open to seaweeds, and probably more so than some of the UK retailers."
Health is currently a key focus for New Wave, which is set to tweak the recipe for the chips because they currently "narrowly miss out" on being HFSS compliant and would fall foul of the incoming promotional ban.
The Shore brand has also been expanded beyond snacking, with pesto designed to widen the use and perception of seaweed.
"Most seaweed is in the foodie aisle as a bagged product or seasoning, and consumers think 'That's healthy, that's sustainable, but what the heck do I do with it?'," Paterson says.
Further NPD is planned for the coming year, while brand marketing will be expanded to include sponsored beach cleans to support Shore's link with the coastal environment.
When it comes to innovation, New Wave believes one of its advantages as a harvester of seaweed is its understanding of the unique flavour benefits of different species.
"We are licenced to harvest 17 different species and we've got it down to about 10 that fit with our production model that there's also demand for," says Elbourne.
The harvest process itself is labour-intensive and has to be done at low tide, by workers trained to harvest different species in particular ways.
"Some grow from the base, almost like a conveyor belt, and some grow from the tips, so you harvest those in different ways," explains Elbourne, adding that the plants are always harvested to allow for regrowth.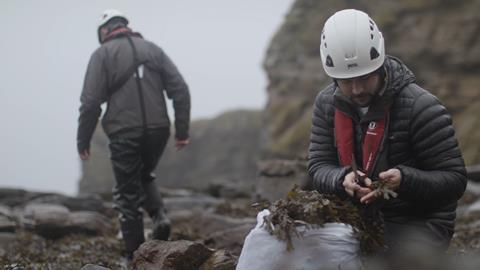 Once harvested, the seaweed is taken to the New Wave factory in Wick, where it is washed and air-dried in batches before being milled and packaged.
As well as supplying the Shore brand, the factory supplies a wide range of food suppliers, with increasing interest from producers of plant-based food. A proportion also goes to cosmetics manufacturers because the ingredient is known for having skincare properties.
As demand grows, New Wave sees a big future in seaweed farming.
"Globally, there are many millions of tonnes of seaweed produced and farmed but it's almost all in Asia, where 99% of production is from farming," says Elbourne. "It's the polar opposite in Europe. So, we saw there was opportunity, but it would take a long time and we've been farming for as long as we've been wild harvesting."
Seaweed is farmed by deploying cultivation lines in the autumn, he explains. "The growth is very slow to start with and then come the new year, the light comes back and the plants grow really fast and are a couple of metres long by April."
Currently, New Wave's farming is concentrated on species for which there is known demand, including that used in the Shore products.
While seaweed has advantages over many farmed crops, requiring no freshwater or land, for example, it has its own challenges.
"It's very different from the wild harvesting in that it's expensive because you're taking a boat out and everything has to be done at scale," says Elbourne. "But there's a big future in farming because we'll be able to achieve a bigger scale of production."

Are you a specialist retailer looking to source the best quality local and regional produce? Visit the Farm Shop & Deli Show 2022 to find trend-setting food and drink from hundreds of British suppliers, plus the latest technology and industry insight. Register your interest now