Normally butchers do the butchering. But the rise of the supermarkets put the trade through the mincer. There were 70 supermarkets in the UK in 1975, according to the Structure of the British Retail System. Today there are over 10,000.

As they grew, thousands of high street operators, like greengrocers, fishmongers, off-licences and butchers rolled up the shutters for the last time.

In 1977 the Agriculture and Horticulture Development Board (AHDB) started tracking the number of cheery blood-stained butchers sharpening their cleavers in the UK. It counted 25,300. By 1995, less than half that number remained. That same year, Dewhurst, which at its peak had 1,400 shops, went into administration.

And the decline didn't stop there. In 2008, the Daily Mail reported that "23 butcher shops are closing every month as the stranglehold of giant supermarket chains tightens". Numbers continued to fall in every consecutive year, reaching 6,070 in 2015, according to the Grocer Retail Structure report. In short, from 1977 to 2015, three out of four butchers got the chop.

And then, in 2016, for the first time on record, the numbers went up. Not by much, admittedly, just 1.2%, or 70 butchers, taking the total to 6,140. But up is up. So what has the trade done to stop the rot and move back into growth? And is the uptick a flash in the pan or proof of a genuine revival?

Certainly the supermarkets played the biggest part in the downfall of the British high street butcher. But "it was probably the butchers' own fault a little bit as well," says Tim Wilson, who started The Ginger Pig in 1996. "The supermarkets came along and you could see the piece of meat and the price. It was safe, it was cheap, and it was convenient."

Quality standards and customers service weren't always high either, he adds. "The first butcher I employed was an oldish guy. A customer came in on a Saturday and he wanted half a shoulder of lamb. The butcher cut a shoulder in half and gave the customer the worst half. And I said 'Why have you done that?' And he said 'Always give them the worst bit because the best bits will sell themselves'. I said 'Yes, but the man's gone home with a piece of meat and when he cooks it, it will be like chewy old bootlaces.

Now, not only have the mistakes of the past been learned, butchers have evolved, with a particular focus on "quality, traceability and advice", but also no little innovation and risk taking. "It's a younger generation behind the block," he adds.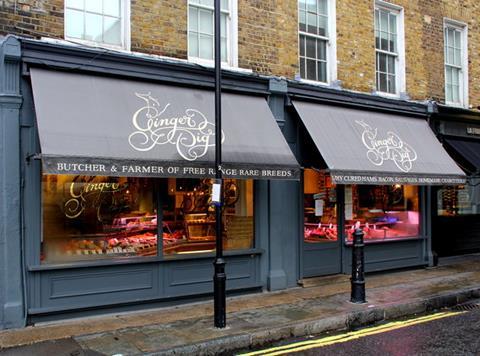 "Our industry is becoming sexy again," says Gordon Newlands, general manager at the Q Guild, which represents 'the highest quality butchers and independent meat retailers' in the UK. "Everyone is upbeat, trying new ideas and driving it forward. I'm not saying the industry is easy and everyone is making loads of money, it's a tough old game. But they aren't sitting back, they are all forward thinking."

That progressive attitude is working because "everyone is a foodie now," adds Newlands. "Consumers, caterers and restaurants don't want mass produced laser cut factory steaks, or meat put through tenderising machines. They want artisan cuts butchered to their specifications."

And they want old-fashioned service. "I've nothing against the supermarkets, but there is very little customer service there," he adds. "Butchers take care of their customers. I met someone that served a grandmother, then her daughter, now the grandchild. That's fantastic, that's what we want. 'My mother shopped at a butcher so I'm going to shop at a butcher too'."

A post-horsegate consumer need for transparency has also played its part. "You can go into a butcher and be assured of the supply chain. Look at Trading Standards questioning Tesco's Fake Farms brand this week. Consumers haven't got a clue where they are. But indies know exactly where they are buying from. Most butchers know the actual farmer."

Take it or leave it

One obstacle all butchers have to overcome is their reputation for being expensive. How you tackle that varies but you cannot afford the sort of take-it-or-leave-it approach that once prevailed, says Wilson.

"Before I had anything to do with selling meat I went to a butcher in Nottingham who was renowned for selling good steak. I said 'Can I have a slice of rump steak, please?' I was expecting to spend around £5. And he got this big rump on the bone from the cold room, cut a slice, dropped it on the block and weighed it, and said 'That'll be £10.50'.

"I thought 'Bloody hell, that's too much!' But I daren't say anything. I felt in awe. But I didn't go back to him for ages because I felt I would spend more than I wanted to spend. And the supermarkets did away with that. You knew how much it was going to cost."

Now butchers have "learned that before you say to the customer 'That's yours, take it home' you lay it on the block and say 'Is that too big? Shall I take the corner off?' Butchers need to learn from the mistakes made by the trade in the past and be up-front about it."
Business barometer
Do you have a butcher concession in store?
● No 96%
● Yes 4%
If no, would you like one?
● No 91%
● Yes 9%
If no, why not?
● No demand 53%
● Lack of space 43%
● Health & safety reasons 2%
● Too much hassle 2%
Do you think customers would like one?
● No 77%
● Yes 23%
Space permitting, what would your preferred concession be?
● Post Office 32%
● Quality coffee 20%
● I wouldn't want a concession 20%
● Subway 11%
● Other 14%
Open all hours
Or evolve. Muddy Boots, which operates two shops in North London, doesn't even call itself a butcher, even though all it sells is meat.

"From the beginning we called ourselves a 'meatshop' and that was a very conscious decision," says co-founder Miranda Ballard. "We knew people were predominantly buying meat in packaging. So we wanted to be an independent butcher but keep the actual butchery out of the shop."

That didn't attract the "10% of people who are happy with the traditional butcher, with hanging carcases and bloodied cleavers. They didn't get it. But that's fine and lovely because we don't tread on the toes of traditional butchers, or even modern traditional butchers.

"Instead we immediately tapped into people buying meat from supermarkets, who have around 90% share of the market. They said 'OK, you're promising me the meat is better and you're working very hard to not be more expensive'. And they started to get it. And slowly we started being that alternative to supermarket meat."

Crucially that means competing on "convenience and price" because "that's why the supermarkets won. They did nothing cleverer than stay open for longer and have a strong price message. So we are open seven days a week, 12 hours a day, 84 hours a week. I'm not anti-supermarket, they are incredibly successful businesses. And I can learn a huge amount from them, take what they do really well and bring it into an independent high street shop."

As a small independent, getting close to the supermarkets on price is tougher than staying open late, but the "whole point of Muddy Boots being an alternative to supermarkets would be entirely undermined if customers came in and said you're 20% more expensive," says Ballard.

"So we have to play the game. And that means being prepared to accept smaller margins in favour of having a price message. I could not sell a £5 pack of sausages as regularly as I sell a £4 pack. Our mince is £3.95 for 500g and that's a price everyone knows. We have tiny margins on chicken. If we are going to bang on about being an alternative we can't be twice the price and open half the time.

"Obviously we don't come anywhere near the cheapy meat prices but it's a different product altogether, so I don't worry about that. What it means is that we can make good money every day, not just at Christmas or on a sunny BBQ weekend."

It's working. Muddy Boots has just opened a second shop in Muswell Hill and shops three and four are set to open in October and January. "We'd like to try one next to a Tube station," she says. "We do such good trade in the evenings with commuters coming home, and on Sundays when the big boys have to shut if they're over 3,000 square feet."

Demographic difference?

Among the new generation of butchers to emerge in recent years, many have been in affluent areas, notably London and the south east, including Ginger Pig. But the return of the high-street butcher is not defined by demographics.

"The Q Guild has some fantastic names in London but we've also got butchers that have to cut their cloth accordingly, doing £10 meat packs and so on," says Newlands. "In general terms all indie butchers are offering good quality produce and value for money. And there is a growing feeling that butchers are back."

The Q Guild had 103 members at the start of the year but will shortly confirm its 125th and says there is "no demographic difference. The London guys are always blessed with footfall, but the guys out in the country side are doing very, very well."

Also in Britain's northern powerhouse. In these price-conscious times, for example, discount butcher Crawshaw has evolved, and thrived, by undercutting supermarkets by 35% on fresh meat. In 2015 it reported sales up 17% to £24.6m. Pre-tax profits were £1.2m. Chairman Richard Rose wants to "build scale as soon as possible" and appointed former Lidl COO Noel Collett as CEO in 2014 to take it from 22 stores to 200.

Footfall driver

Smaller c-stores are also getting in on the action, especially those with the space to take in a butcher concession like Henderson's. The Northern Irish wholesale, symbol and retail operator introduced its first in-house butcher concession in 2009 in its 5,632 sq ft Eurospar Ashbury store in Bangor. It will open its 29th later this Summer.

In terms of "turnover, profit and footfall they are performing well," says Henderson Group MD Martin Agnew. "It can take a while for a butcher to get used to operating on his own in a c-store, because selling pre-packs could be a third of their sales. But once they get their head around that it works.

"We are trying to focus on shopper missions like tonight's tea, and if you've got a good protein offer you can build the rest of a grocery basket around that. And we are working hard on a supply solution for the butcher that we can capitalise on".

Other Spar retailers in GB also want a piece of the action, among them Eat 17, which put a butcher concession in its Spar store in Hackney last week, and Connolly Spar in Pewsey, Wiltshire, in 2015.

Susan Connolly, business development manager, says the local high street butcher "was 60 years old and had to sign up to a 15-year lease, which he didn't want to do. We had a big stockroom and it was quite trendy at the time for butchers to go into c-stores. So we did it."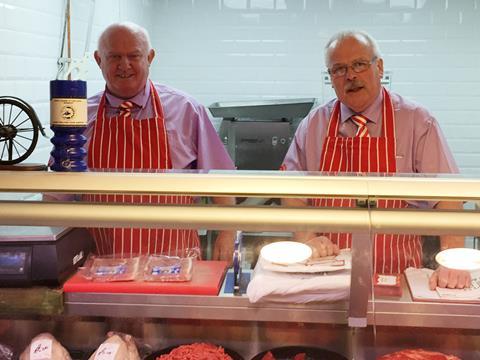 Assimilating the two was not a simple process, she admits. "Initially they were going to be our employees but it became evident straight away we didn't know anything about butchery. And they are butchers not business people, so we had to nag them for BBQ packs and so on."

It "does work", however. "We are open until 10.30pm and they close around 5pm but they pre-pack things to put in our chiller. And they have ham so we have almost created a good, better, best range - you can get Spar ham for £1, one in the middle, or butchers' ham."

Perhaps the best thing is "we get their footfall and they get ours. And the knowledge they bring and the suggestions they make to customers are really good. When the customers get their beef they pick up the grocery and ambient from us to go with it. And when they come in for milk they see the butcher. It works both ways."

Most recently, that symbiotic relationship worked best last Christmas. "He sold 800 turkeys, which meant 800 people coming in to pick them up, so we had a massive Christmas display with the stuffing, cranberry sauce and everything else down by the butchery. That's where we cashed in. It was almost like PayPoint, our butcher was a footfall driver."

As our research shows, most convenience stores dismiss the possibility of an in-house butchers out of hand. It's a mistake adds Connolly. "Everyone buys meat. So if you're not offering that service, people will go to Tesco."

Multiple manoeuvres

And Tesco, and the rest of the supermarkets, are "clearly alive to the changing consumer attitudes and changing consumer needs" that have seen a resurgence in local butchers, says Mike Richardson, senior manager for the independent sector at the AHDB.

Perhaps the clearest example arrived last week, when Asda shook up the way it merchandises meat by grouping beef, chicken, pork and lamb together as BBQ favourites or Sunday roasting joints.

The strategic change is more likely to be a response to the challenges posed by deflation and the discounters than a small uptick in independent butchers, but nevertheless it is a more personal and friendly approach to selling meat, just like a local butcher would do, says Richardson. Although it won't ever be the same thing.

"Supermarkets are trying to reassure the customer of the process behind what they are buying, but without having a go at the supermarkets, the very nature of them means they can't talk to their customers to explain about the different cuts, how they have been produced, or how they have been matured," he says.

"They try and get some of those messages across on the packaging but it's just not the same. If I talk to my butcher you have a conversation. You get an education that you don't find anywhere else. They make meat more interesting and exciting."

Not just by offering specialist cuts or being more inventive, he adds. "Plenty of shops do meat classes or butchers' courses, which makes meat fun. It's engaging with local customers, and potentially it means people market that butcher in an indirect fashion via word of mouth.

"I know another butcher that opens a small pop-up restaurant in the evenings. It's diversification. It's reinventing the business, it's freshening it up. You wouldn't have done it in 1977. But times have changed." independent view butchers