Craft cider is continuing to play a winning game in terms of growth and drinkers are increasingly willing to splash out on more premium choices, but what formats they willing to spend more on? And could premiumisation, coupled with the combination of MUP and increasing awareness of alcohol consumption spell the end of white cider as we know it?
We spoke to an expert at Westons to find out what's hot, what's not and what's next for the category
What's hot? "In cider at the moment, fruit cider and traditional and craft ciders are both really hot. These two subcategories are bringing new consumers into the market, more females, younger consumers and more upmarket consumers so it's great news for the category as a whole."
What's not? "White cider, value cider and pear cider are underperforming in the category as a whole. Retailers need to think carefully about their ranging and not give too much space to those subcategories because they're now deemed to be old fashioned."
What's next? "We think the future is all about fruit cider and cans. In the Westons Cider Report, we predict fruit cider will be 50% of the market by 2023 and consumers and shoppers just love cans. They love the fact that they're easy to chill, they're recyclable, they're lightweight and as brand owners we love them because they're a great tapestry that we can do our branding upon.
Innovations: five new fruit and canned ciders hitting supermarket shelves
Friels Raspberry, Mint & Lime Cider
Brand: Friels
RSP: £1.50
Launched in May, Friels says this "natural rasberry" flavour will shake up the fruit cider category which is "dominated by very sweet products". The combination of mint and lime is inspired by classic mojito flavours and the drink carries an ABV of 5.5% which is slightly higher than most fruit ciders on the market. It's currently listed in Tesco.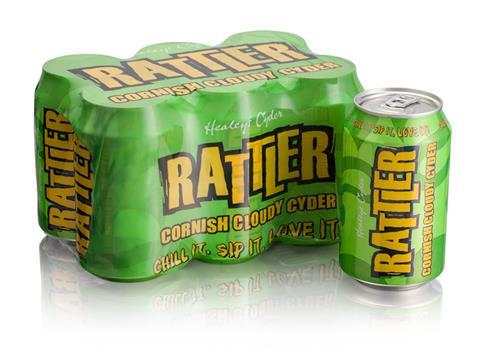 Rattler lower ABV Cyder
Brand: Healey's Cyder
RSP: £7.50/6x330ml
To meet a demand for more "sessionable" cider, Healey's has launched a canned 4.8% ABV version of its cloudy cider which is usually a 6% brew that comes in 500ml bottles. The brand says the new trendy canned format is perfect for "spontaneous socialising with friends at barbecues, festivals or on the beach" and makes it easier for the brand's core demographic of 18 to 35-year-olds to "grab a pack, chill the cans quickly and start sipping sooner". It's available in Tesco.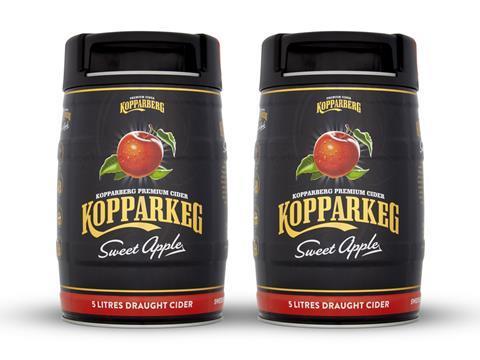 Kopparkeg Sweet Apple
Brand: Kopparberg
RSP: £18/5l
Kopparberg's limited edition shareable kegs first hit the UK in summer 2016 and were an instant hit, with the Strawberry & Lime variant selling out within the first month of hitting shelves. Making the most of the success, the brand launched a new 5l Sweet Apple variant this month which it says "balances the taste of sweet apples with a subtle honeyed aroma". The keg is exclusive to Asda until the end of July.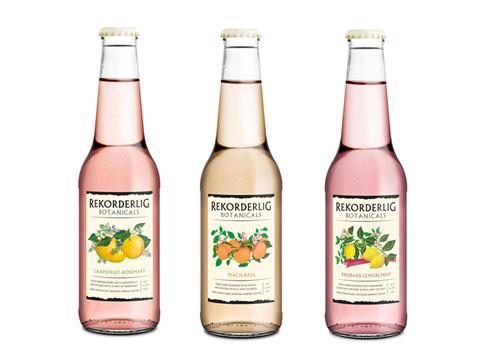 Rekorderlig Botanicals
Brand: Rekorderlig
RSP: £2.00
Rekorderlig says this "pioneering" launch will take flavoured fruit cider into a "new dimension". According to the brand the new "game-changing" variants, Rhubarb-Lemon-Mint, Peach-Basil and Grapefruit-Rosemary are some of Sweden's lesser-known flavours and are all made with Swedish spring water. They're available from Tesco, Waitrose and Ocado.
Rosie's Pig Raspberry Roller
Brand: Westons Cider
RSP: £1.50
Tapping into the huge growth in berry-flavoured ciders, this cloudy Raspberry and Cucumber variant, which was originally only available as a limited edition in the on-trade, is now launching permanently into grocery.
The "refreshing" new flavour is "well-balanced and an easy-drinking cider with a fresh finish" according to the brand. The lightweight, easy-to-chill can features bright imagery of Rosie's Pig - the original Westons Cider delivery truck.
It's available in Morrisons, Waitrose and Tesco.