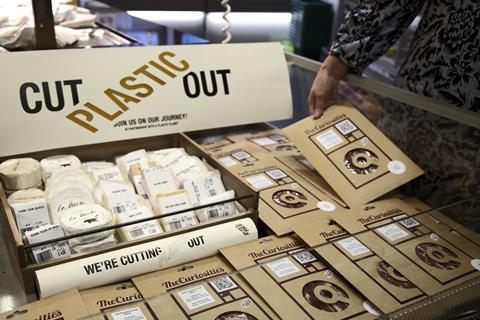 Independent retailer Andrew Thornton's move to massively reduce plastic in his store has led to a 4% rise in weekly sales.

Thornton first introduced 1,700 plastic-free products at his Thornton's Budgens store in London's Belsize Park in November. Working with charity A Plastic Planet, he developed a number of plastic-free zones around the store designed to make it easy for his customers to go plastic free. He utilised a range of innovative packaging materials including beechwood nets, pulp, paper, metal, glass, cellulose and cartonboard.

The move attracted widespread publicity at home and abroad and Thornton said sales were up 6% in the first two weeks, but this had now settled down with weekly sales up 4%.
Thornton said he is continually looking to introduce more plastic-free lines, with the current total standing around 2,200, and that he was well on track to hit 3,000 products. The store sells 14,000 lines in total.

"Our single goal is to ignite and inspire the world to turn off the plastic tap. We believe that being a business that is a force for good in society means looking after our employees, our customers, our community, our suppliers and the environment. People want to shop plastic free," said Thornton at this week's Grocer Business Lunch.

Thornton said the move has not resulted in increased food waste, and has attracted new customers to shop in store from as far as an hour's bus journey away.

He also revealed that after team members visited the store, leading Canadian grocery chain Sobeys had committed to making its produce department plastic free in all 1,600 shops.