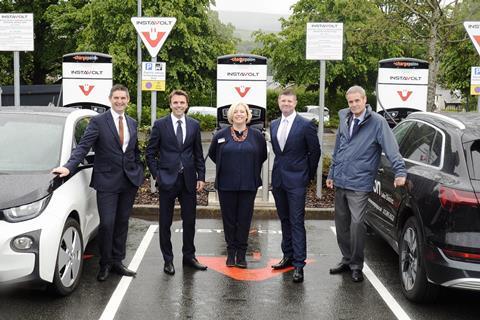 Booths is gearing up to install a further 30 electric car charging stations at its sites across the north west by the end of year.

The retailer, which currently has 40 charging points at 13 locations, said work would begin shortly at its Kendal store, while planning on the remainder of the estate was "well underway".

Booths has collaborated with rapid electric car charger provider InstaVolt on the rollout of the charging facility, which operates on a pay-as-you-go basis and enables drivers to tap their contactless credit or debit card to pay.
"With the increase in electric and hybrid car ownership, we are working with InstaVolt to offer a new and important facility which is part of the journey towards a more sustainable future for personal transport," said chairman and CEO Edwin Booth.

Tim Payne, CEO of InstaVolt, added: "As sales of electric cars rise it's becoming increasingly important to create a public network of rapid chargers in places that fit into people's lives and allow them to charge their EVs just like they'd top up with petrol or diesel. Places such as supermarkets are a perfect example and we're pleased to be working with Booths. This move to install InstaVolt chargers will see the chain become a significant part of the UK's public charging infrastructure."

Last month it emerged that the number of public electric vehicle charging locations had exceeded petrol stations for the first time in history.

Data from Zap-Map - an online and app-based service for EV owners - suggested that as of 30 May, there were 8,592 charging locations across the UK, compared with 8,400 petrol stations.