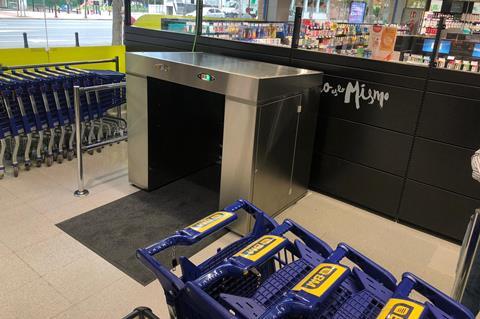 A company behind a trolley disinfecting system rolled out earlier this year in Spain is in talks to bring the system to the UK.
UCE Machines, which is based in Valencia, came from a background of making laundry and dry cleaning systems for hotels, hospitals and Laundromat chains.
However, the company has developed a machine using food-grade disinfectant which is safe to be used on trollies as well as users' hands.
It uses a dispensing nozzle system to coat the trolley, whilst a spray system also coats the hands of the user, in the space of three seconds.
Th system is currently being used by Spanish retail group Uvesco, BM supermarket and Family Cash.
"From a supermarket's perspective, it will give their shoppers the confidence they will expect going forward," said a UCE Machines spokesman. "As the expectation is that Covid and other potential new pathogens, as well as existing ones, are going to be at the forefront of people's minds for the next few years, this can be an opportunity to attract new shoppers to stores that have the machines, as has been the case here in Spain.
"In terms of supermarket staff, their employees have a duty of care to protect them, and finally, another consideration is the saving on labour for trolly cleaning as the customers do it themselves."