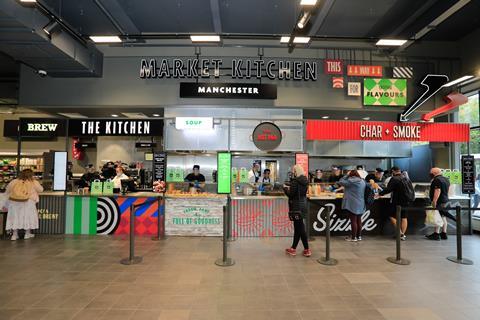 Morrisons has launched its second Market Kitchen format, at its Manchester Piccadilly Gardens store, describing the new concept as part grocery, part takeaway.
The retailer has created 50 new chef and front-of-house roles at the food-to-go store, which caters for breakfast, lunch or evening meals.
Customers can either wait for food to be prepared by chefs, pick it up in pre-packed portions, or order food from home via Deliveroo. Products include wraps, rice bowls, pizzas and soups.
A catering menu is also available for local businesses or larger groups, with items such as a Chicken Wrap Box serving six for £15. A Hot Sandwich Breakfast Box, priced at £12, serves six.
Morrisons opened the first Market Kitchen concept at its Canning Town branch in east London in October, and has said it will look to roll out more in areas with high food-to-go demand.
Market Kitchen orders can be placed through the Deliveroo app or website and will usually incur a delivery charge of £4.50. However, for a limited time only from 27 August to 1 September, it is offering free delivery.
"The chefs in our Market Kitchen will use ingredients straight from our famous Market Street to create delicious seasonal meals for customers that are made to order," said Hannah Munns, Morrisons head of Market Kitchen.
"It means that customers can pop in and pick up their next meal while also buying the groceries they need for future meals. And, thanks to our partnership with Deliveroo, customers across Manchester will be able to enjoy their favourite dishes from our menu without leaving their kitchen."