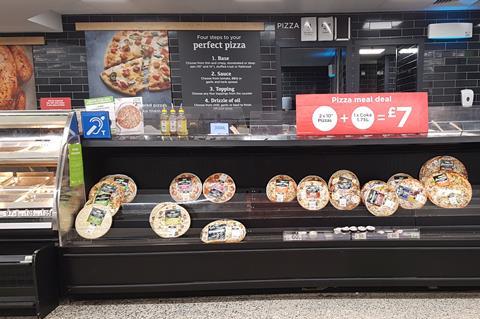 It was no surprise when Sainsbury's announced the closure of all of its deli counters in November. The supermarket had already shut its deli counters during the first lockdown, and they had been struggling in-store for some time. Declining sales and high wastage had been accelerated by changing shopping habits during Covid-19, and it wasn't just Sainsbury's facing the problem – other retailers had been experiencing deli losses too.
It's clear that in-store deli counters need a serious rethink to thrive and survive. As head of marketing at Winterbotham Darby, a company that has supplied the deli counters of the UK's biggest retailers, and has even run a deli counter itself, we have thought long and hard about this challenge. There are some common principles that we have found to determine success.
Firstly, supermarkets must think of the counter area as space that is available for whichever use best suits shoppers and retailers. Their offer must be different to anything else in store. Different functions or unique products are vital, such as Asda's hot pizza offering, and equally important is superior quality – consider the attraction of Sushi Daily.
Supermarkets should also create a sense of theatre. Enthusiastic and knowledgeable staff are effective, and counters can also be self-serve – Jelly Belly's colourful product dispensers are a real pull. New technology, such as the touchscreen Deliveroo ordering in Morrisons' Market Kitchen, can provide fertile ground for experimentation. Lastly, consider how your counter can appeal to all the senses. A range of soft-serve ice creams is a feast for the eyes, and the wafting aroma of fresh doughnuts has an almost irresistible appeal, attracting customers just as effectively as the smell of baked bread that we associate with supermarket shopping. Indeed, true theatre doesn't only benefit the counter area, it can lift the atmosphere of a whole store.
Less exciting but just as vital is a robust series of measures to prevent waste. Long or longer life products, multiple uses for the same ingredient, and merchandising that doesn't rely on constant staff involvement can help. Curate tight ranges that inspire. Make the concept completely clear to shoppers, such as dinner for tonight, and create an experience that builds loyalty, such as products that can flex by time of day – or even appeal based on the location and demographic of the individual store.
Even bearing the fundamentals in mind, there are some concepts that have more potential than others. Booming areas like plant-based deserve the concession treatment – just witness the queues at Rudy's Vegan Butcher in London, which sold out of products during its opening week. And as demand for wellbeing grows during the pandemic, health would benefit from an overhaul in both fresh and ambient, bolstered by the addition of specially trained staff.
The deli counter isn't dead. But it is time to re-examine what consumers look for when they shop, and use these important areas to give them the inspiration and experiences they seek.