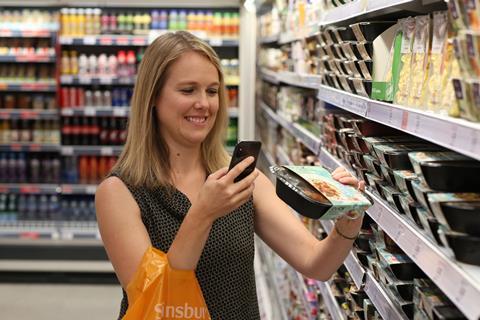 Sainsbury's has pulled the plug on its first till-free store trial, admitting customers are not ready for it.

The supermarket went live with the refurbished checkout-free Sainsbury's Local in London's Holborn on 29 April.

But now Sainsbury's has reintroduced tills, adding two self-checkouts and one manned one, because some customers still want to pay by cash or card.

The store uses Sainsbury's SmartShop Scan, Pay & Go technology, letting customers scan their shopping with their smartphones and pay using the app. They must also scan an in-store QR code with their phone before leaving.
It was launched as a three-month experiment to gauge customer feedback to the SmartShop Scan, Pay & Go app ahead of a wider rollout.

In the week it opened, The Grocer visited to find an eight-to-10-deep queue at a help desk, the only remaining place to pay by cash or card.

Explaining the recent reintroduction of tills in a blog, Sainsbury's said it was 'clear that not all our customers are ready for a totally till-free store.

'Some customers preferred to pay with cash and card, which sometimes meant they were queuing to use the helpdesk, particularly at peak times of day. This is why we've added a manned till and two self-checkouts back into the store so those looking to pay by cash and card can do so quickly and conveniently. We want to be the most inclusive retailer where people love to work and shop, so it's really important to us that our customers can pay how they want to.

'Till-free shopping is still available in the Holborn Circus store, as well as eight other convenience stores across London. We'll take the learnings from this experiment to develop our technology even further to help make shopping easier and more convenient for all our customers.'

Sainsbury's said it regarded the Holborn Circus store as an experiment for gauging customer feedback to help it develop the technology further before rolling it out more widely.

It said the experiment 'created excitement'. Many were keen to check out the store, download the app and test out the new way of shopping.

It said lots of customers loved how 'quick and simple' the SmartShop app was to use and many chose to shop this way regularly.

However, some customers found the QR codes when leaving the store could have been easier to scan, so it designed new ones and adjusted how they were placed in store.

'While most customers are happy to use their mobile data to download our app and shop, many signing up to use the store Wi-Fi found the journey took a little long, so we changed it to a one-step process,' the company added.