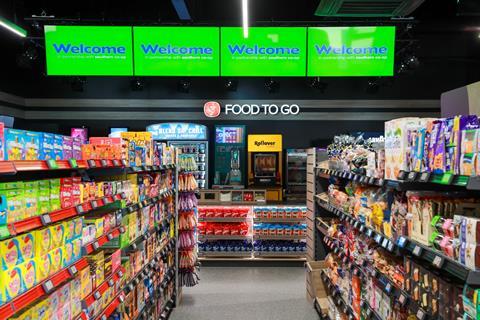 Southern Co-op is advising franchisees to display toiletries around queuing areas and replace end-of-aisle displays with in-store messaging to become compatible with the upcoming HFSS laws.
It comes as the society begins devising plans for the 28 franchise stores that are set to be impacted by location restrictions from October, due to them being sized 2,000 sq ft or over.
It has so far supplied all those affected with copies of their store layouts for them to review. It said this will allow franchisees to put forward any specific requirements or ideas they want for their store, such as using a shelf-end for a specific product group that is HFSS compliant. It has also provided each store with a plan that shows HFSS-affected areas to help franchisees understand the regulations.
Once the franchisees, which trade under Southern Co-op's 'Welcome' banner, return these plans, the society said it will produce HFSS-compliant layouts for the affected stores to review.
The society has already started drafting up a series of ideas. Alongside replacing end-of-aisle displays with in-store messaging, it said the space could also be offered up to suppliers who want to use it for marketing, so long as it is HFSS compliant.
Other ideas included moving HFSS-compliant products to end displays, such as flowers, stationery, refill products, news and magazines, HFSS-compliant products from local suppliers, gluten-free goods or coffee vending machines.
Alternatively, with aisles that have two or more metres of non-HFSS categories such as canned veg, pasta or petfood, it suggested these products could be "wrapped round" to a promo bay.
It added it had already been working closely with food-to-go and soft drink suppliers around new location ideas. In its Welcome store in Sholing, Southampton, it has moved all food-to-go products to the rear of the store and used large TV monitors with "effective lighting" to direct customers to its new location.
The society explained, however, the key differences visible from original Welcome store layouts would be that the impulse ice cream cabinet will no longer be near the entrance door, and confectionery products won't be under the checkouts. It would however be able to keep fresh fruit and vegetables that are already located near the entrances in most Welcome sites.
It said while the remaining 31 franchisees that were under the 2,000 sq ft threshold would not need to abide to location restrictions, they are still subject to restrictions on volume promotions. This is because convenience retailers that are deemed to have a 'franchise agreement' will have to calculate their employee numbers based on all employees within the whole franchise business they are part of, not just the people directly employed in their store.
Therefore, Southern Co-op said its franchisees won't be able to sell HFSS products with flash packs, price marks or multibuy promotions unless they are in the exemptions list, such as a packet of crisps in a sandwich meal deal.
"Our Welcome franchise operation managers will be working closely with all of our franchisees to ensure they are all prepared and compliant by 1 October," said Southern Co-op franchise business manager Mike Fitton.