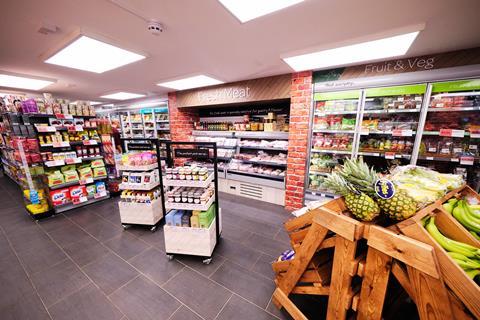 Spar is launching a new convenience store format while also trialling a new range and efficiency proposition in two stores.
The convenience operator told The Grocer it will debut a new 'fresh store' design in May that will evolve from its current neighbourhood fresh format.
It hopes it will become a one-stop destination for shoppers cooking at home by offering a greater variety of fresh produce, meat, fish, poultry and savoury groceries.
It also intends to tap the "most important convenience shopping mission" of grab and go by dedicating more space and range for food to go, sandwiches and impulse products.
Spar Carnon Downs in Cornwall will be the first to undertake the overhaul at the end of May, followed by two Northern Irish Eurospar stores in Rossdowney and Doagh that will open in June.
"The beauty of working with Spar is that we adapt our format design in line with customer demands – it's not one size fits all," said Spar UK retail director Ian Taylor.
"There are the basic brand guidelines which all stores adopt. Then we work with the retailer to ensure the local customer needs are met.
"In the case of Spar Carnon Downs, the store is situated in a highly affluent area, with strong local demands for products. Therefore the store design and offer will reflect all these needs."
Spar has reviewed all categories in the new fresh format with NPD due to be rolled out across the stores, including in fresh.
It has also set out to launch two proposition trial stores in Wareham and Poundbury, both in Dorset, which will focus on range and efficiency in May.
The stores will undergo a range review process that will remove product duplication and focus on key lines in categories that are less important for the store format.
"As always, we have set KPIs for the trial stores and we are looking forward to rolling out more once we are clear on these," continued Taylor.
"There is a very strong refit and new build programme across Spar in 2021 and into 2022, showing the strength of the brand. Our retailers are looking to invest in their stores to meet changing customer demands.
"We never stand still and always want the next store to be better than the previous."