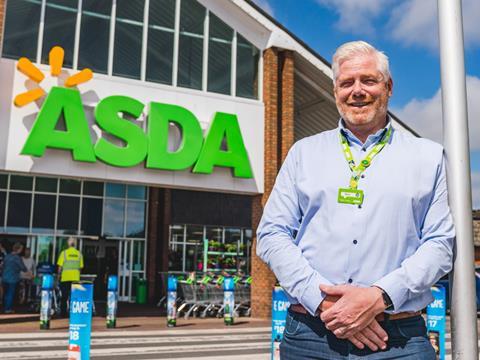 How has the store changed in recent years? It's 35 years old and we've had a few refurbishments over the years. The most recent was around two years ago, which saw the store undergo an extensive refresh, especially in our fresh and frozen area and an update of the equipment and cabinets. Our fresh produce numbers have seen huge growth since then. We also did a lot of work on our counters area by opening out the area to make it much more spacious, and the customer feedback following that refurb was very positive.

There's a lot of changes at Asda. Where have you made the biggest progress as a store? We're really proud of how well our e-commerce operation is running. It's had double-digit growth year on year, and is the store's fastest-growing element.

What makes the store stand out from competition? Our colleagues - we've a fantastic team, many of whom have worked here for a long time because we look to promote where possible. It's so important to talk to employees as much as possible and listen to what they have to say, which is why we run face-to-face sessions throughout the year so they can voice concerns or comments.

And how have staff reacted to the merger with Sainsbury's? All feedback we've had has been positive. The merger is a great opportunity to strengthen and grow the business while keeping staff's jobs secure and getting the best possible deals for customers.

What lines are selling well now the World Cup has started? We've seen a variety of lines doing really well, including some great TV deals and our four for £6 deal on selected beers and ciders. We're also offering a special World Cup pizza from our pizza counter, the 'Score-cher', which has generated lots of interest - it's a pepperoni pizza on which a quarter of the base contains a really hot [and hidden] naga chilli sauce.
Winner: Asda Hellesdon
Manager: Steve Clark
Opened: 1983
Size: 52,000 sq ft
Market share: 20%
Nearest rivals: Lidl - 0.8 miles Aldi - 1.1 miles, Iceland - 1.9 miles, Morrisons - 2.2 miles
Store data source: Analysis by CACI. Call the market planning group on 020 7602 6000