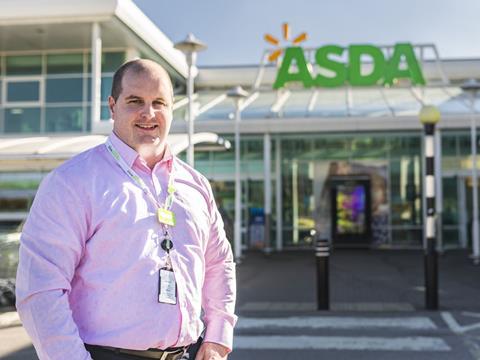 The store is 20 years old this month. Do you have anything planned? Yes, we've got a party planned for the staff. Quite a few of them have been here through that entire 20 years - the colleagues are brilliant.

How are you keeping the store up to date? We've just got a new Max Spielmann photo shop in store. There's a real surge of interest in having personalised cards and mugs made and it's gone down a storm with people in the run-up to Halloween. It has its own Halloween booth at the moment.

How is your Halloween lineup trading with three weeks to go? It seems to get bigger every year. We're quite an affluent part of Stafford and we're catering to a lot of Halloween parties by the looks of our sales. Also selling really well has been a Halloween doorknocker, which screams at people when you approach it- it's fun and the kids love it.

You were at the Asda Golden Quarter Conference in Birmingham last week. What products will appeal to your affluent customers? There's a great range of novelty gins. There's a gingerbread gin we're selling which is very popular and we've got quite a few special gins coming out over Christmas. Over Christmas we are are going to be going very big on Extra Special mince pies.

What was the message from Asda bosses at the conference? The big message was that we had a good year last year but we are going to be even better this year. There was a very strong message that it's vital we give customers what they want, which is not only good prices but great theatre and service in store.

Tesco has been making great play of its cheaper prices. How do you compare? We have a Tesco just around the corner and we are cheaper. I think our customers understand that. We've also got two Aldis and a Lidl nearby so we have to be very competitive on prices, and we are thanks to our Rolled Back Staying Back cuts.

What moves have you made to take on such fierce local competition? When I moved here a year ago there was a pay car park. I decided we should do away with the charges and it's made a massive difference. It was only £1 an hour, £2 for three hours but it was enough to be a barrier.

Speaking of fierce, have you tried the new Asda vindaloo pizza yet? It certainly lives up to its billing. It's very hot.
Winner: Asda Queensway, Stafford
Store manager: David McLawrence
Opened: 1998
Size: 88,000 sq ft
Market share: 56%
Nearest rivals: Aldi - 0.5 miles, Tesco - 0.6 miles, Iceland - 0.8 miles, Lidl - 1 mile
Store data source: Analysis by CACI. Call the market planning group on 020 7602 6000