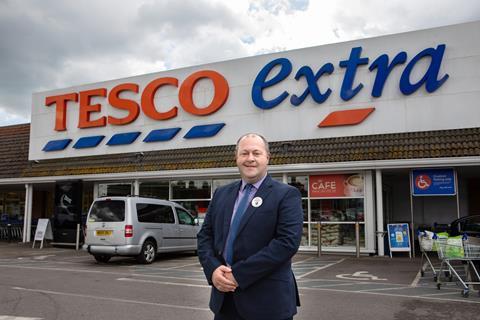 Winner: Tesco Extra, Sutton
Manager: Darren Jeffries
Opened: 1997
Size: 65,000 sq ft
Market share: 10.2%
Nearest rivals: Asda - 1.2 miles, Sainsbury's - 1.3 miles, Morrisons - 2.1 miles, Waitrose - 2.5 miles
Store data source: Analysis by CACI. Call the market planning group on 020 7602 6000
You only joined the store in March. How are you finding it? It is really great and the team here are really engaged in what we are trying to do. You can only win awards like this thanks to the hard work of everyone in the store so I am very proud of the team. My last store was a superstore while this is an Extra, so there is a lot more to be on top of. The key here is paying real attention to detail, such as ensuring the non-food area is well laid out and presented and we are on top of the fresh food area, as these are real drivers of sales.

How do you ensure the store provides strong availability and customer service? For me it is about trying to lead by example. Walking the store every day and getting stuck in. I won't ask anyone on the team to do anything myself or the senior management wouldn't do. We check the store for gaps every afternoon and evening. The store should always be in as good a condition throughout the day as first thing in the morning.

Tesco seems to be performing strongly at the moment. How is morale? Things are very buoyant. It feels like all of our plans are coming together, such as the Exclusively at Tesco range and the 100th anniversary price cuts. We are really working on putting the customer at the heart of everything.

Do you spend much time visiting rival stores in your area? We have a lot of competition locally including supermarkets and convenience stores. I spend a lot of time checking out what is happening in rivals' stores. Not so much looking at prices but at the appearance and the customer journey.

How were sales over the bank holiday last weekend? We had a bumper bank holiday but I am actually expecting this weekend to be even better. We have good weather predicted and we are already getting in the stock. We have some big sporting events and it is our staff double discount offer so I think we can look to beat last weekend.