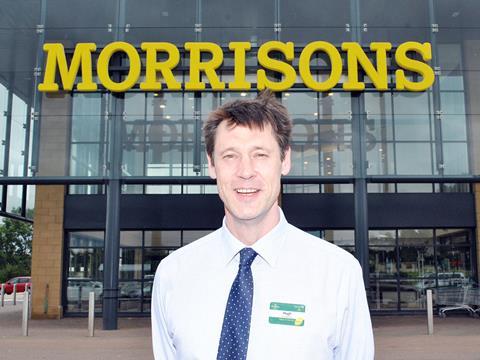 Congratulations on your win. Thanks! It was especially good to win on a Sunday as there has been a recent push throughout Morrisons to do better on Sundays. We are trying to get staffing levels right and make sure we keep our standards up. We have 200 people working here and this is a great reward for their hard work.

How are you getting on with Morrisons' new queuing pledge? Very well. We have promised one-plus-one or better. We have always tried to achieve this but now we are being challenged to hit targets. In the past three months we have trained relief checkout operators and looked at transferring hours to make sure we can do this. In the past couple of months we have increased footfall and basket spend, which suggests customers like what we are doing.

Are you expecting to get Amazon lockers installed soon? We are due a modular refit in October and are getting Amazon lockers as part of that. We are also introducing a standalone customer service desk, a new food-to-go area and new coffee machines. I'm hoping the lockers will drive footfall - I think anything that is likely to benefit our customers is worth looking at.

Have the latest rounds of Price Crunch had an impact? Definitely. Customers are more price-sensitive than ever. Morrisons has always been pretty competitive on price and offered good value for money but we have possibly not always communicated this well. With Price Crunch you can't fail to notice it. This week we reduced the price of 380 lines in health and beauty as well and we have some cracking prices.

What's the next focus for your store? We will shortly be moving over to the automated M ordering system, which we are looking forward to. In order to do this you need to carry out six weeks of stock counts and we are starting that on Monday.
Winner: Morrisons Dundee
Store manager: Hugh Urquhart
Size: 42,000 sq ft
Opened: 2008
Market share: 9.9%
Nearest rivals: Iceland - 0.4 miles, Lidl - 1 mile, Aldi - 1.1 miles, Tesco - 1.4 miles
Store data source: Analysis by CACI. Call the market planning group on 020 7602 6000