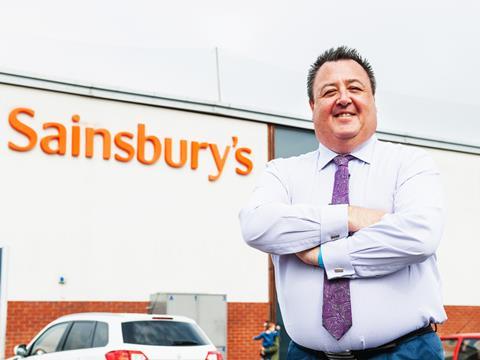 You've just won the Grocer 33 in your 33rd year at Sainsbury's! What's kept you working there so long? They look after me. The company is fair and consistent with all employees, and do what they say they will through open communication. The job is a challenge and always varied.
Winner: Sainsbury's Deal, Kent
Store manager: Mark Maidment
Opened: 1998
Size: 24,000 sq ft
Market share: 38.8%
Nearest rivals: Lidl - 6.4 miles; Tesco - 6.6 miles; Aldi - 7.5 miles; Morrisons - 7.6 miles; Asda - 8.5 miles
Store data source: Analysis by CACI. Call the market planning group on 020 7602 6000
You're 8.5 miles from the nearest Asda. Looks like your store is safe? I'm not allowed to talk about [the merger] I'm afraid.

Are there any features your local competition has that you would like to see in your store? Not really. We've got more line counts of food than the Co-op and Lidl nearby, we've got clothing, GM and Argos click & collect, which attracts a lot of people. We're already ahead of our competition.

How much do you tailor your shop to the customer demographic? We get a lot of seasonal custom in the summer months, which really helps trade increase and we stock plenty of beach items such as ­buckets and spades.

What lines to do you expect to sell well over the bank holiday weekend? It depends on the weather. It's meant to be pretty sunny which, for a store located in a seaside town like ours, means soft drinks, ­barbecue and garden items are likely to be very popular.

Have you noticed customers becoming more conscious about plastic waste? There are definitely more comments than ever before. We have recycling facilities in the store and car park.

What's your relationship like with the team? Open and clear communications are vital to make sure employees know what is going on in the business, as well as what goals they should be trying to achieve and how to achieve them. I don't know everything, nobody does, and it's important ­employees are aware of that. The best answers and solutions often come from among colleagues serving customers closely, and can also involve input from the whole team, not just one person.