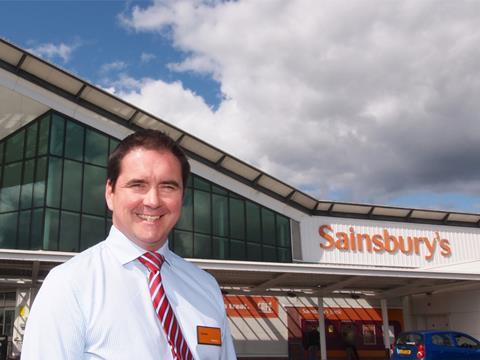 You were one of the first Sainsbury's stores to get an Argos on-site. How has this worked for you? It's going very well. When Argos opened in August, it increased footfall and brought people to the store who hadn't considered shopping here. It really works hand in hand with our store - when they launch a new catalogue we get increased footfall, and when we do events in-store they get a good spin-off.

How closely do you work with the Argos team? The thing we spent time on was integrating with each other, so they're part of our team and we're part of their team. We had an engagement evening where Argos gave discounts on products to our colleagues, which was fantastic, and I think that was the bedrock of the partnership. Now if someone comes in looking for a car mat, for example, we can say 'have you tried the Argos in the corner of our store?'.

How do you ensure your checkout service is so good? We have great colleagues at the checkouts - some of the best I've ever worked with - and they have this knack of talking to customers and identifying needs. They make time to give that extra service rather than treating everyone the same.

This December marks 20 years since the store first opened. How will you celebrate? It's in the planning stage, but we're thinking of holding an awards ceremony. We have colleagues who've been here since the store opened so we want to make sure we recognise them in the right way for their hard work and engagement over the years, as well as the new colleagues. I'm sure we will have a great night.

The win has come at an interesting time for you as I understand that you're off the Australia to work for Coles? I've been here for 25 years so it was absolutely fantastic to get the call this morning. We see other stores getting awards so this is a great going away present.
Winner: Sainsbury's Drumchapel
Manager: Jamie Savage
Size: 35,000 sq ft
Opened: 1996
Market share: 8.5%
Nearest rivals: Aldi - 0.8 miles Lidl - 0.8 miles Asda - 2 miles Morrisons - 2.3 miles Tesco - 2.6 miles Waitrose - 4.3 miles
Store data source: Analysis by CACI. Call the market planning group on 020 7602 6000