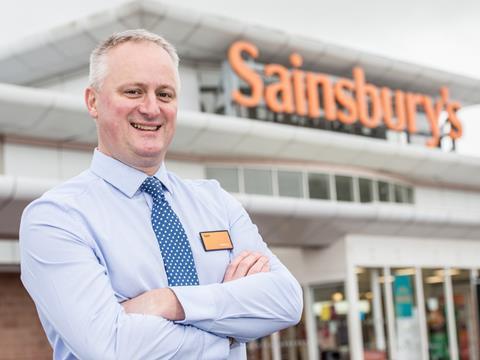 Congratulations. You must be thrilled? Yes, I was delighted because the team and my deputy in particular did a fantastic job in my absence. It was great to come back from holiday to a fantastic award and it's a credit to the team.

How's sales? The Aberdeen economy is really under pressure but our sales have continued to be really strong and we have a genuine belief that it reflects our new pricing strategy. We've removed every multibuy and now just focused on everyday low pricing. Customers are feeding back on a daily basis how that's making their lives easier.

Have you implemented any changes recently? We changed to a new online ordering system just a couple of days ago. It is making us more productive, and we've got better service and availability because it gives us better access to information.

How important is the online grocery service to your store? It's now playing a huge part in our success. It's a very strong growth area and we were the first branch to introduce click & collect groceries in Scotland 18 months ago. It offers customers a different way of shopping. Sales have probably doubled since we started 18 months ago, they can be quite spiky but they're growing all the time.

Sainsbury's has started trialling same-day delivery in London. Would you be keen to do the same thing? Yes, absolutely. It's not here yet but we expect to be doing same-day delivery at some point in the future. It gives customers the opportunity to make last-minute decisions and I think it gives them another way to make shopping more convenient and easier. We're actually trialling same-day delivery in Scotland now and we expect it to be successful. I think generally we're being really ambitious with initiatives we've got planned.

And how do you feel about the Argos acquisition? All store managers are really embracing the digital area. It's changing very quickly and we believe we're at the forefront versus the competition. There's generally a real confidence and buzz.

Are you ready for Christmas? We've been getting ready for six to eight weeks now, but first we've got a massive event planned for Halloween with fantastic displays and a great range of products. Colleagues are dressing up to create real excitement in the week leading up to it. We feel as a company we do events better than anyone else so we really get behind Halloween.You're coming up to your store's 20th anniversary. Are you doing anything to celebrate? Yes, it's our anniversary in November. We've got a party in our colleague restaurant and we'll have a Christmas night out, which we will theme around the 20th anniversary.
Winner: Sainsbury's Garthdee
Manager: Sam Grogan
Size: 32,000 sq ft
Opened: 1996
Market share: 12.7%
Nearest rivals: Asda - 0.8 miles Tesco - 0.9 miles Iceland - 1 mile Lidl - 1.4 miles Morrisons - 2.5 miles
Store data source: Analysis by CACI. Call the market planning group on 020 7602 6000