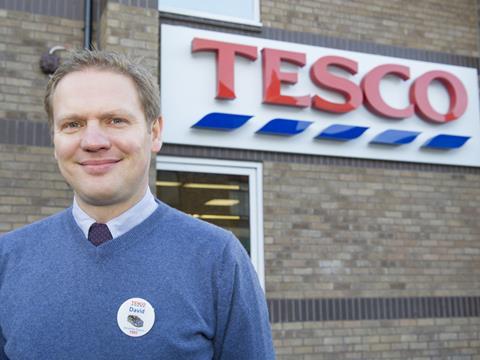 How did the long Christmas weekend pan out? Sunday (Christmas Eve) was constantly busy from the moment we opened the doors. Friday and Saturday were busy in the day-time but seemed to tail off a bit in the evenings. A lot of people were shopping in the day and going out in the evening.

Did fewer people leave their shopping to the last minute this year? A lot of people were stockpiling from October onwards. Shoppers have been keeping a tight eye on their budgets and I think they were being organised in how they spread their spending.
Winner: Tesco Driffield
Store manager: Dave Cooper
Opened: 1987
Size: 15,000 sq ft
Market share: 43.4%
Nearest rivals :
Morrisons - 10.9 miles
Sainsbury's - 11.1 miles
Asda - 16.1 miles
Waitrose - 19.7 miles
Store data source: Analysis by CACI. Call the market planning group on 020 7602 6000
How did the 29p Festive Five veg go down? They flew off the shelves. I couldn't believe it when I first saw the portion size of the potatoes we were selling for 29p. They were huge! It was really good value.

Did you have any problems with rotten turkeys? We had one customer come in to say that her turkey had not been right. We did what we had been advised and looked after her - she received £75 as a gesture of goodwill.

What were the biggest sellers over Christmas? We had great deals on beers, wines and spirits. Pink gin and prosecco were both a big hit, they flew off the shelves. We also shifted a tonne of confectionery.

Thoughts have turned to health and detoxing now though. How are you helping? Health is a massive driver at this time of year. Tesco is running its Healthy Little Swaps Campaign to try to get shoppers to choose products with less sugar and fat. We've also relaunched our free fruit for kids, pushing our sweet-free checkouts and have 20% off low and no-alcohol ranges.

But Easter eggs are in already! We have a few and have more coming in next week. This week we are also launching a whole range of products for the run-up to Easter in our bakeries, including salted caramel and chocolate chip hot cross buns.