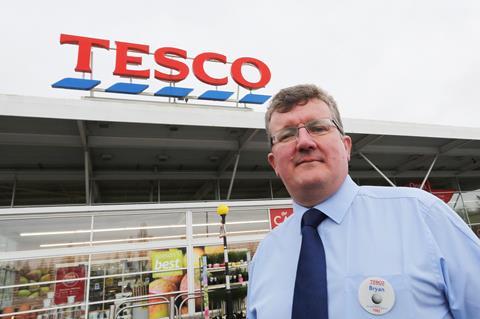 Winner: Tesco superstore, Perth
Store manager: Bryan Gibson
Opened: 2003
Size: 35,000 sq ft
Market share: 21.9%
Nearest rivals: Aldi - 1.4 miles, Lidl - 1.4 miles, Morrisons - 1.9 miles, Asda - 2.6 miles
Store data source: Analysis by CACI. Call the market planning group on 020 7602 6000
This win must come as welcome news at a difficult time for the store. That's right, to achieve this result on the weekend after we closed our counters is a really great tribute to the staff here. These awards are down to the whole team and with this being a period of transition I am very proud of everyone here.

How have the 100th anniversary price cuts gone down with customers? They have definitely had a positive response. These, along with the Exclusively at Tesco lines, are changing the price perception whereby shoppers now understand they can get their shopping cheaper than or as cheap as the discounters. Having the Jack's lines in over the last few weeks has also helped with this. We didn't have a lot of different lines but we have had a lot of volume.

So will you welcome the imminent extension of the Exclusively at Tesco range? Absolutely, I think there are another 200 more lines to come so shoppers will really be able to do a full shop within the range. There might have been a bit of stigma for some shoppers around buying an Everyday Value product but that is no longer the case with this range.

Is there anything new happening in store at the moment? The big focus is on our full, fresh and clean push - it's stuff we have always done but the key is about giving great customer service through having great availability in a bright, clean store. It is back to basics and when you have that right pricing as well it becomes a great offer.

How has the store performed over the recent bank holidays? We've done really well over Easter and the last few weeks. The weather has been great and we've had a big boost on non-food such as garden furniture and charcoal and then of course all the BBQ food. Let's hope for a lot more good weather as obviously it was a great summer last year. Without any obvious major sporting events this summer it is good that we have the centenary campaign this year.