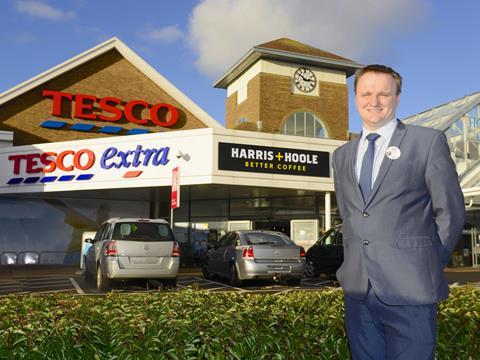 Winner: Tesco Shoreham-by-Sea
Duty store manager: Brian Leworthy
Opened: 1992
Size: 80,000 sq ft
Market share: 21.9%
Nearest rivals:
Sainsbury's - 2 miles
Iceland - 2 miles
Aldi - 2.3 miles
Waitrose - 3.9 miles
Store data source: Analysis by CACI. Call the market planning group on 020 7602 6000
What changes did you make for the Christmas period? There was a real focus on availability for essentials and we also put a huge emphasis on making sure we had feet on the ground, including teams of packers to help people through the tills.
Are the extra staff just for Christmas? No, most of them are staying. Since September we've had 130 new people and that's made a significant difference. We've had great feedback from customers, including people commenting on our Facebook page about how well our staff handled Black Friday.
How did the moves on price over the festive season go down? We dropped the price of what we called the Festive Five, so we had a range of potatoes, sprouts, carrots, cauliflower and parsnips all at 49p. That was on top of the price drop we've already had on fresh food, and I'm proud to say that we had good availability at all times over Christmas.
Was it just food that went well? No, we are one of the trial stores for the new Connected World concept, which brings together our phone store, tablets and gaming. It's all based around a hands-on interactive experience and of course it was perfect for Christmas. It made a real difference to sales.
What other changes have you had in store? We had a substantial relaunch in September, which also includes a new Beauty World section, where people can do things like get their nails done. We were one of the best-performing Beauty World stores in the Christmas period across the country.
How much does the attention on Tesco's problems affect staff morale? Tesco has obviously had its trials and tribulations, but the investment we've had in this store has brought a great energy to the team and our staff are feeling very positive. The important thing is to let staff know what's going on and treat them with respect.