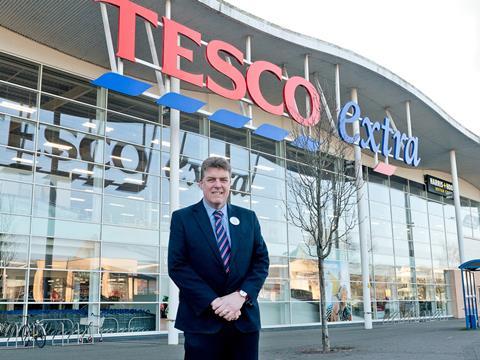 How did trading go over Christmas compared with last year? From my point of view it seemed really good. We had the lines we wanted, the logistics worked really well. This is the third Christmas I've had as manager of this store and I was able to plan much better than ever before.
Tesco's online sales were the busiest ever over Christmas – how did that impact your store? We have a big dotcom operation with 13 vans and we were operating at maximum capacity in the week before Christmas. I think Tesco having discontinued its Tesco Direct operation has helped us concentrate on our in-store offer.
How did non-food perform over Christmas in your store? We performed very strongly on toys and we also saw some really good sales on our Fox & Ivy [premium homeware] range. It's a high-quality range and sales were very good over Christmas.
Is the 100th anniversary campaign and price cuts marketing going down with customers? When you come in the store you can't miss it – there are banners in red, white and blue. The price cuts have gone down really well and we're heavily promoting them in areas like the aisle ends and promotional aisle so they're being very well shopped. It allows us to maintain the momentum of sales from Christmas in what can be a comparatively quiet period.
Have customers been turning to Veganuary? Our free-from range has really grown in the past year and there are an awful lot more people shopping it. It's not just vegans either, it's proving very popular with lots of different types of shoppers.
So finally, what have you been doing to help shoppers fight the flab in the new year? We have a great range of gym equipment under the F&F label, which is advertised by Davina McCall. It's got some really good quality at competitive prices and it's proving very popular with people at this time of year.
Winner: Tesco Solent Road, Havant
Store manager: Matt Puryer
Opened: 2009
Size: 80,000 sq ft
Market share: 17.5%
Nearest rivals: Aldi – 0.4 miles, Iceland – 0.4 miles, Waitrose – 0.6 miles, Sainsbury's – 3.4 miles
Store data source: Analysis by CACI. Call the market planning group on 020 7602 6000