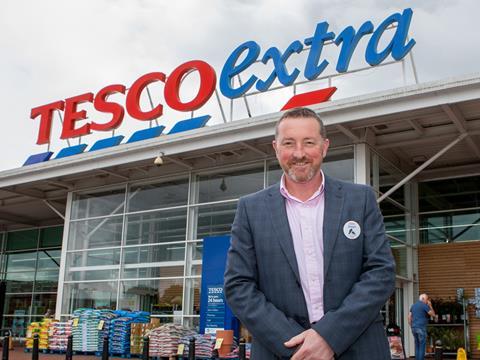 You're a Tesco Extra but not one of the biggest and you're 24 hours. Are you expecting that to change? No. I think we are seen as an appropriate size for a retail environment. Some Tesco Extras are much bigger than us and I know they are being looked at for rebranding and different partnering, but not us.

You scored 20 out of 20 for availability. You must be pleased. Yes. There are a number of irritants for customers and availability - not having enough fruit & veg or special offers - is right up there with them and a big focus for Tesco this year has been how to improve availability. Trading for 24 hours as we do and restocking at all times of day supports that.

Have you had much feedback about the Perfectly Imperfect range? Yes. Customers are huge advocates and we have added to the range. It's very competitively priced and sampling the range ourselves, as we do from time to time, we have found the products to be just as tasty as the regular types. I, personally, tried some Perfectly Imperfect strawberries that were very small but exceptionally sweet.

Does selling wonky fruit and veg help food waste, do you think? Definitely. If we can repackage things at source so we can sell them rather than reject them, that's doing a lot to cut food waste. We collect for food banks as well, which are very well supported.

Our shopper was impressed with your store standards and, unusually, said he was personally welcomed by a lady called Linda. That's great to hear. As a manager you can set standards and have expectations but I have 350 colleagues who have then got to carry that out and serve the customer and they do an awesome job. Linda came to us from a Metro store. Her full-time job is to make people feel this is a warm and friendly store and that is just what she does.
Winner: Tesco Towngate, Leyland, Preston, Lancashire
Store manager: Simon Court
Size: 60,000 sq ft
Opened: 2002
Market share: 18.3%
Nearest rivals: Aldi - 0.2 miles Asda - 0.2 miles Morrisons - 0.7 miles Lidl - 2.4 miles Sainsbury's - 2.5 miles Waitrose - 5.6 miles
Store data source: Analysis by CACI. Call the market planning group on 020 7602 6000