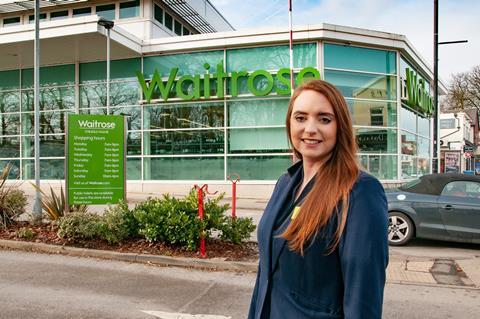 Winner: Waitrose Cheadle Hulme, Cheshire
Store manager: Louise Wallbank
Opened: 2007
Size: 25,000 sq ft
Market share: 9.9%
Nearest rivals: Asda - 0.6 miles, Lidl - 1.1 miles, Morrisons - 1.2 miles, Sainsbury's - 2.2 miles
Store data source: Analysis by CACI. Call the market planning group on 020 7602 6000
You joined the store two weeks ago. How are you finding it so far? Everyone has been very friendly and welcoming. I joined Waitrose through the leadership programme seven years ago and I'm looking forward to this new challenge to improve this store - it's a massive opportunity.
What do you see as the most important thing for a store manager to do? It's about getting the best out of the people, understanding their strengths and where they can improve, and helping them reach their potential.
There were some availability gaps in the fruit & veg and chilled sections. How are you working to improve it? Availability is one of my main focuses, and we're upskilling partners to ensure they can keep on top of it too. They now have smartphone handsets to identify gaps and recover them as quickly as possible. We already do two recoveries across departments each day, but it's about being pro-active as well.
Our shopper cited 'attentive and helpful' customer service. How do you recognise that?Partners are rewarded through our One Step Beyond initiative, and can be nominated by their manager or colleagues. This could include acknowledgement about what they have achieved on our Google+ website, featuring in our internal magazine the Waitrose & John Lewis Gazette or a personal gift such as free breakfast or lunch in our café, cinema trips or tickets to Alton Towers. The night team received pizzas one evening for maintaining excellent store standards.
How is the store preparing for Easter? Easter lines are starting to come in and partners are tasting some of the products at the moment so they can share their thoughts with customers. We'll be doing some promotions on our meat counter with lamb and our massively popular £8 Chocolate Avocado Egg is making a return.