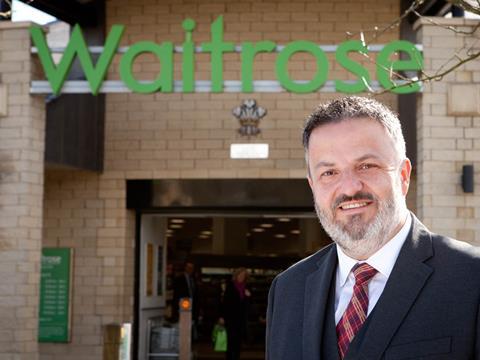 You've got a Tesco Extra, an Aldi and a Lidl within a mile. Is that difficult for you? I think you share customers with all retailers but I'm pleased to say they haven't affected us. We have a massive catchment area, very rural in between the towns, and we have a lot of loyal customers who are passionate about service and food provenance and come from miles around to shop with us here at Waitrose. The partners are a point of difference, as well, and as long as we deal with customers well they are happy.

Your store was very busy. Are you short of space? We are quite densely shopped, particularly at the end of the week. We are a relatively affluent area and a lot of people have second homes, so there is a bit of an influx at weekends. Behind the scenes this offers us a challenge but we all work extremely hard to make it work for the customer. Like any store manager, I would love more space if I could get it but we are a bit land-locked here.

Our shopper said it was nice to see the manager on the shop floor. It was actually my deputy manager but we always try to have one of us out there. When you visit a retailer it's often a regular experience so, just like a pub, you expect to see the landlord, or the branch manager in our case. I get a lot of feedback, often questions about provenance and I'm on the phone to a buyer for the answer. I think the relationship you build with your customers is important.

Your availability score was very good - 18 out of 20. Are you pleased with that? Well, I'm disappointed it wasn't 20. Our main focus is customer service and availability because if you haven't got the item a person wants, you risk them going somewhere else.

You have an interesting crest above the door - what is it? It's the Royal Warrant of HRH The Prince of Wales, which was granted to us for supplying food and services to his residence at Highgrove, near Tetbury, though I think Malmesbury is the nearest Waitrose now.
Winner: Waitrose Cirencester
Store manager: Steve Gardiner
Size: 26,500 sq ft
Opened: 1996
Market share: 20%
Nearest rivals: Lidl - 0.7 miles Aldi - 0.9 miles Tesco - 1 mile
Store data source: Analysis by CACI. Call the market planning group on 020 7602 6000