A perfect blend of nerves and excitement fills the air. "I've heard he's bringing Kate Moss with him," whispers one hyperactive worker, busily straightening his tie, while an elderly lady, tucking into tea and a Bacon sandwich in the café, claims to have exclusive information. "My daughter said his private jet just landed in Southend," she whispers conspiratorially. The collective anticipation can mean only one thing: Sir Philip Green is in town.
The fashion tycoon is here today to visit his Romford BHS store's new food department, the third trial, following openings in Staines and Warrington, as Green attempts to grab a slice of the £37bn convenience market. Green says that 140 stores of the 200-plus estate could host a BHS Food hall and there is potential to open 50 more by the end of September.
Entering the 3,000 sq ft fixture, Green, in between scanning the shelves and checking his retro Nokia, points a finger and tells an aide that a promotional display of strawberries would look better towards the front of the store. The self-confessed perfectionist is equally bullish about the rationale behind his first foray into grocery.
"It has been in the back of my mind to do something with food for a long time now and we've moved pretty quickly," he says. "The concept was only developed six months ago. If convenience is going to grow in value to £45bn, I'd be a fool to hang about and not do anything, wouldn't I?"
Green admits he had originally intended to team up with a leading food retailer, an option he insists is still open, but decided to press on alone after external research suggested that 80% of BHS customers were ready to buy food. So could the three-store trial be a showcase to potential suitors? After all, the likes of Asda are currently weighing up a c-store offering and it could allow Morrisons to expand its own offer. Or could Iceland make a return to BHS, which operated a small number of Iceland stores in its pre-Arcadia days at the turn of the century.
"I guess Malcolm Walker's a rival now," he laughs. "Look, a lot of retailers would kill for the situation at BHS as the rent is all built in and I have the cost base sorted. I'm sure there are people out there who wish they were good to go in convenience too, and in 100 well-positioned high street locations."
Last year, Green promised the appointment of a "champion of British retail" to head up the internal team for BHS Food. However, he admits the team only currently contains six people.
On the supply side, Booker Wholesale is the sole supplier and its mid-tier (Happy Shopper) and basic (Euro Shopper) ranges are plastered around the store on everything from milk to soft drinks. It's the closest thing BHS has to own label and Green is more than happy with the set-up.
"There's simplicity on offer from Booker. As a businessman I've got one supplier and a supply chain that isn't complicated. They manage 4,000 convenience stores and are helping us strategically too - I'd say they know what they're doing, wouldn't you? Booker is leading things for now as we learn more. Me and Charles Wilson go way back, so he's somebody I trust."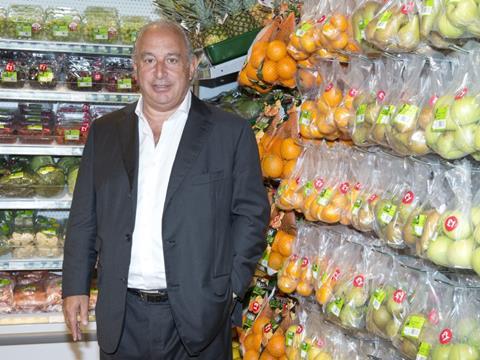 Fresh is easy
Despite the rapid growth projections, it isn't plain sailing for everybody in convenience. The Co-operative Group recently admitted that just changing one tin of soup "can require more than 400 plans to be drawn"; but Green insists BHS won't have these types of issues.
"If a customer doesn't like something, I can change it in 24 hours," claims Green, holding up a pack of fresh chicken breasts. It's a claim that certainly seems to stack up. When The Grocer visited the first trial store in Staines, the fresh produce aisle was noticeably smaller.
This time, the space dedicated to fresh meat and fruit has more than doubled while the pound zone area has been scaled down and the range now appears less random. Both were in reaction to sales patterns, explains Green.
"The quality of the fresh produce was also a surprise so we upped the volume. In 24 hours we can swap that rack out over there and change or move it if something isn't selling; everything is subject to change. In one of the trials, there was a double percentage increase for sales of tobacco and wine - so we made sure there was more stock."
The investment in fresh appears to be working, with a "pattern of shoppers spending up to £70 on baskets. In Romford alone, there's a Tesco, a Sainsbury's, an Aldi, there is an Asda just across the road. We want their customers to come here so the range has to reflect that. I don't want this to just be a top-up shop, I want people to do their weekly shop with BHS." However, Green admits the average basket size is still around £5 and in line with traditional c-stores.
Taking on Tesco
In the run up to the launch of his first store, newspaper reports quoted Green pledging to be 10% cheaper than Tesco, but he is keen to distance himself from them today. "Those comments were pure fiction - I'm not interested in a price war," he retorts. "Of course, value and price is a factor at any grocery business, but first and foremost I want to sell quality produce. I don't want people turning up and saying it's awful."
So what have they been saying? It's certainly an interesting store, with its compact mix of £1 lanes and fresh produce meaning it has just as much in common with a Poundland as a Tesco Express.
"I think you'll have to ask one of the customers," replies Green, when I ask if its USP could get lost in translation.
A lady carrying a basket full of Jaffa cakes and crisps gets a tap on the shoulder. "Hi darling, this gentleman wants to know why you shop here?"
"Oh my, you're Philip Green aren't you?" she quivers.
"Yes," he says, kindly. "This gentleman was asking why people might shop here. I saw you with a basket, so I thought I would ask you."
"Well, I work down the road," she replies. "I was walking past here to go to the Aldi, I popped in to have a nose around here, I've got a basket of food and now I'm not going to go to Aldi."
A broad grin appears. "Job done," chuckles Green. "That answered all your questions in one, didn't it?"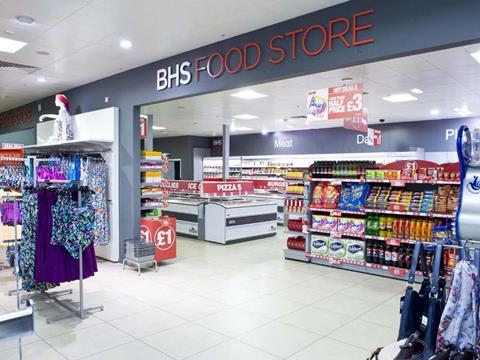 What the hell do analysts know?
So if the discounters are the primary target, what about M&S, which Green infamously failed to buy in 2004. Green pinched both BHS COO Darren Topp and MD Richard Price from M&S back in 2012.
"I don't want to talk too much about other retailers but if you went to a certain store down the road, ask yourself what state the business would be in without food right now? If anything, what is happening in the market validates our decision here."
The first two trials in Staines and Warrington have seen increased footfall and generated a 10% to 15% sales uplift in general merchandise, and Green would like that to double. Yet despite Green's business pedigree, not everybody is convinced by his latest proposition.
City analyst Nick Bubb has been particularly scathing, telling The Grocer back in March: "I will be shocked if this gets past a trial. This is the last throw of the dice from Green to divert attention away from BHS's poor performance and inability to match rivals like Primark and Next."
Rival high street retailers, meanwhile, have questioned the store layout and branded it "confusing". Not that Green cares.

"What the hell do analysts really know? Has Nick Bubb ever run a shop? There will always be critics that will inevitably end up looking stupid. Moving forward, the footfall this will generate is absolutely perfect for strengthening BHS."
Green isn't interested in competing for grocery space with the big four supermarkets due to their superior scale and won't open standalone stores. However, online and click & collect could one day be an option, so long as the demand is there, he says.
The billionaire, more famous for his work with Kate Moss than bananas, admits there has been a bit of a transition. "With grocery, there's a steeper learning curve than in fashion as we now have to replenish stock daily."
But he is not remotely fazed by the challenge.
"I want to make money here, this isn't a hobby. Shoppers aren't loyal any more, the polarisation of the market is proof of that, so we must strike the balance between quality and value. If our food isn't at a high quality, word will spread quickly and loyalty will diminish. Besides, if we don't sell it, we will eat it. I'm confident. And that's all you need to know."
And when Sir Philip Green has confidence, not many would bet against him.