Casual dining needs to become smart, after years of growth
After years of growth, the casual dining sector is now under pressure. In addition to cash-rich but time-poor millennials opting for delivery over dining in a bricks & mortar location, Brexit uncertainty is playing its part as supply costs increase, there are concerns about sourcing sufficient staff, and British consumers adjust their spending in anticipation of economic changes.

Many of the well-known brands that expanded in recent years are now encountering market saturation. And with more sites in their portfolios and excess capacity, these casual dining chains are also facing a higher fixed cost base and upward price pressure at the same time as diner numbers are dropping. What should they do?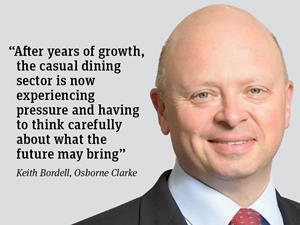 Board and management teams should meet regularly to share information and views and agree action. A close eye should be kept on cashflow and any banking covenants, because increased risk can lead to greater scrutiny, the withdrawal of funding, higher interest rates, and demands for payment.

Management teams should also try new concepts and ways of delivery that resonate with target customers. For example 'extras', vouchers, offers, takeaway and the use of technology are all effective at attracting key customer groups, such as millennials and families, and securing repeat business. Menus should be reviewed to engineer value, customer satisfaction and ensure profit rather than loss.

For suppliers, it's important to minimise large financial exposures and be aware of customers that might try to squeeze margins too far. Ensuring business terms and conditions are up to date and fit for purpose will help with cash management, financial success and business relationships.

Hard borders, if they come, will likely have a detrimental effect on just-in-time supplies and perishables, meaning working capital may be needed to cope with extra lead times and additional stock held.

The most important thing is to spot the signs and take sensible steps as early as possible. Taking advice and action too late may, in the worst cases, lead to cash running out and insolvency.

Keith Bordell is a partner at legal practice Osborne Clarke