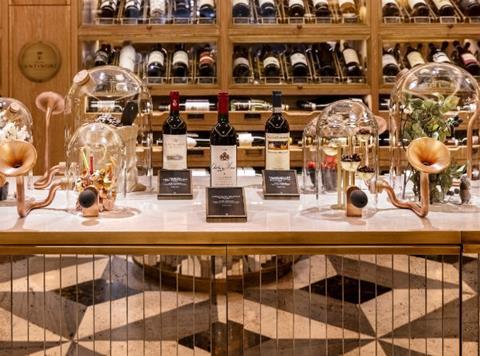 Harrods has opened fine wine and spirits rooms, stocking a variety of alcohol brands.

The Kensington-based retailer has categorised products by flavour profiles and territories, encouraging customers to try a new beverage from a region they haven't sampled from before. The rooms will also have an aroma table where customers can immerse themselves in the scents of their chosen wines and spirits.

Product prices range from £12 to £28,000, and the rooms are designed to cater to wine and spirit novices and experts alike.

The rooms are separated by beverage, meaning there are rooms dedicated to wine, champagne and sparkling wines, and spirits. There is a whisky section in the latter, and an education room for customers to learn more about the beverages on sale. This room will include live streaming to vineyards and winemakers.

Harrods will also be offering bottle personalisation and personal consultations.

Designed by the Martin Brudnizki Design Studio, and inspired by the 1920s, the rooms have marble patterned floors and limed-oak timber wall panelling.

"The fine wines and spirits rooms are an exciting showcase of Harrods' excellence, setting it apart from any other retailer in the world," said Harrods director of food and restaurants, Alex Dower. "The new rooms will break down barriers and change perceptions on the world of wines and spirits by focusing more on the flavour profile of the product, rather than the specific categories and brands."

Harrods' former wine room had been in the basement of the department store, but was moved for one of its restaurants to be built in the space.