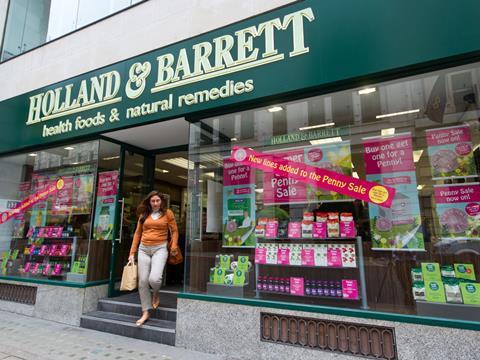 Holland & Barrett has unveiled its 1,000th high-street store alongside plans to introduce 70 new branches across Europe.
The Carlyle Group owned high-street retailer, which opened its 1,857.9 sq ft premises in Manchester's Trafford Centre this morning, credited the resilience of the "health pound" for booming business, which has seen sales climb by 7.5% to £513m (for the year ending September 2014) and profit jump 8% to £130m.
Holland & Barrett plans to open a further 40 stores in the UK and Ireland and 30 in Holland and Belgium between October 2014 and September 2015, creating 485 new jobs in the UK.
Peter Aldis, CEO of NBTY Europe, Holland & Barrett's parent company, said long-term campaigns on the risks of sugar, salt and meat were translating into increased consumer interest in the healthy product ranges the retailer offered, while a generation of more health- and fitness-aware consumers was driving increased footfall in store.
"Data from our Rewards for Life loyalty scheme shows an increasing amount of younger shoppers buying into the brand for the first time," he said.
"We have in particular seen notable increases in demand for our 'free-from' food, which is 20% up year on year, as well as our healthy beauty range, which is up 70% year on year online, reflecting continued scientific advances and a genuine shift towards healthier living."
Aldis added there was scope for "further growth across Asia"; Holland & Barrett currently has 29 franchised stores in China.