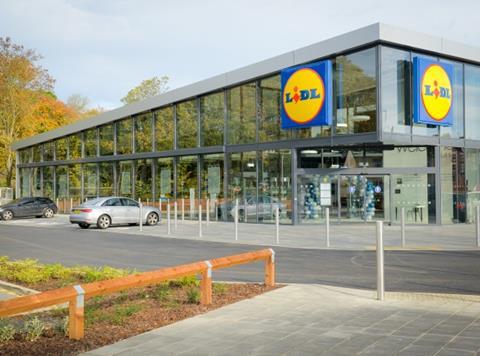 Lidl has unveiled its Store of the Future. And it's big.
Dubbed the 'Lidl of the Future' the 14,000 sq ft store's design is 40% bigger than the previous template, and will also incorporate other recent Lidl store developments such as wider aisles, longer tills and toilets with baby changing facilities to meet further expectations of the British consumer.
The new concept store in Rushden, Northamptonshire, which opened this week, will provide the template on which all the discount retailer's future developments will be based, it has promised, and each will cost £2m.
"This is yet another milestone for us in providing the infrastructure needed to manage our increasing market share and the expectations of our growing customer base," said Lidl UK property and expansion director Ingo Fischer.
"Along with its cutting edge design, our 'Lidl of the Future' concept will also go a step further to streamline processes and maximise efficiency. Our Rushden store represents just the beginning of the future for Lidl, and we will continue to invest in our expansion programme to ensure that one day everyone across the country has a Lidl store near them," added Fischer.
Lidl is investing £1.5bn on expansion over the next three years.
Lidl's plans will see 281 stores open across London and a new head office open in Tolworth, South London, as well as the expansion of its warehouse facilities.
Lidl intends to open between 40 and 50 new stores in 2016, the majority of which will be built around the new concept. Only those that have already passed through the planning process will follow the retailer's current design.
Over the next three to four years it will also refurbish 120 to 150 of its existing 629 stores, upgrading them to 'Lidl of the Future' specification.
In addition to a more spacious store layout and enhanced customer facilities, the new design incorporates a bigger warehouse and hi-spec operational facilities to maximise efficiency and streamline processes. It utilises the latest energy efficient technologies to reduce CO2 emissions by over 20% compared with a building of the same type, size and use - the equivalent to flying a jumbo jet over 700 miles.
Environmental impact is further reduced by an LED lighting system that is over 50% more energy efficient, yet still provides more than requisite illumination for customers in-store.
A fully glass-fronted façade maximises natural daylight entering the building, whilst sensor controlled exterior sun blinds automatically operate to mitigate the effects of unwanted heat from solar gain.