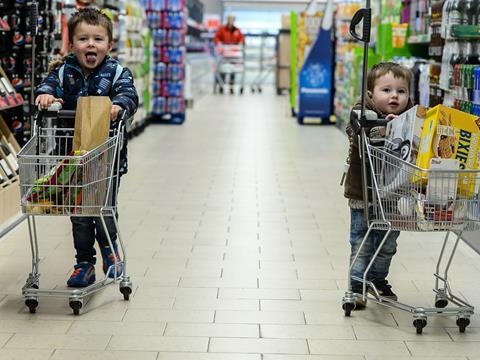 Lidl is rolling out a trial of mini trolleys designed so children can help with shopping to stores nationally.
The "fun-size" trolleys are to be a feature in more than 250 stores with "large entrances and exits" as well as all newly opened stores, Lidl said.
It follows a trial launched last year in a limited number of stores starting with Oakham and Tooting.
Each additional store will get nine of the mini trolleys, along with a new bay to stack them in.
The move shows Lidl's commitment to engaging children in food shopping and healthy eating, according to the discounter.
The trolleys are called "fun-size" after Lidl's mini Oaklands versions of ordinary fruit & vegetables, which go by the same name and were designed to encourage kids to eat their five a day, a spokesman said.
"We're constantly looking for new ways to make shopping more fun and engaging for kids," said Lidl UK's commercial director Ryan McDonnell. "We're keen to help parents build their children's understanding of what they eat, and we hope that our new fun-size trolleys will encourage kids to play a bigger part in the family shop."