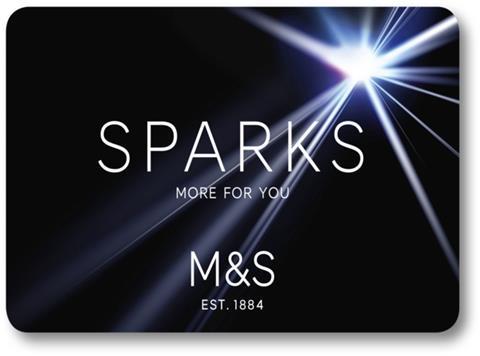 M&S is launching a new members club to capture customer loyalty with tailor-made offers and bonus rewards.
From 22 October, the Sparks card will allow customers to earn points to unlock personalised offers, get priority access to new-season previews, shop sales early and the chance to be invited to special events and experiences.
"This is something different, this is something unique. It is a step change in the retail industry and the loyalty field," said M&S director of customer insight and loyalty Suzanna Broer.
"Don't think loyalty because loyalty is the wrong word to use. This is a new relationship that we are starting with our customers."
There will be no supporting TV marketing campaign but customers can collect a free card in-store and invitations will be sent out to M&S.com customers, M&S credit card customers and shareholders.
Shoppers will collect 10 sparks every time they shop, 10 for every £1 they spend, 25 for every online review they write and 50 every time they 'schwop' old clothes in store to donate to Oxfam. M&S will also donate 1p to the members chosen charity every time they shop.
Tailor-made offers, such as 20% off a category, personalised using registration information and customer history analytics will be accessible at 100 Sparks, priority access to new-season previews opens at 3,000, shopping sales early opens at 5,000, special events such as wine tastings and food masterclasses opens at 14,000 and at 17,000 customers will have the opportunity to win experiences such as an all-expenses paid trip to an M&S vineyard in South Africa.
To promote the launch, a '14 days of Sparks' campaign will run entering all registered customers into a free prize draw to win an M&S experience from 22 October to 4 November.
"Customers tell us they want to 'be part of something special' and that's exactly why Sparks is a club," said M&S executive director Patrick Bousquet-Chavanne.
"As a member you are more than a customer and you'll get the most from M&S. It's a two-way relationship; members tell us what they enjoy, select their own tailored offers and are rewarded for sharing their views."
The loyalty members club was developed over four years in collaboration with over 600 customers and was tested in 24 stores in South Wales between late August and early October this year.