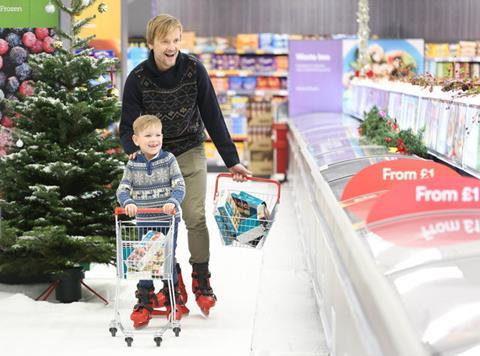 Iceland livened up Christmas shopping at a London branch by turning it into a giant ice rink.

The Stratford store was transformed overnight with 2,500 sq ft of synthetic ice and shoppers were provided with skates to navigate the aisles.
Iceland says the concept could be rolled out nationwide next year, although by the looks of the video there may be some risk assessment work to do. "Some found it a little too challenging," it says, as a man tumbles over into a pillar clutching his palm oil free mince pies.
The "world's first supermarket ice rink" followed research commissioned by Iceland that found four in five parents wished they had more time to enjoy the run-up to Christmas, while nine in 10 children found shopping trips boring.
Penguin aids were provided for children and two professional skaters put on a show during the one-day trial, in late November.

"We wanted to add some magic to Christmas food shopping and the in-store skating experience has certainly done that," said Iceland's marketing director Neil Hayes.
The stunt makes a PR follow-up to Iceland's viral 'Rang-ad' ad, which promoted the supermarket's commitment to go palm oil free with a Greenpeace animation about deforestation. The frozen food specialist is quietly recognised by the PR teams of other supermarkets as having "won Christmas" with the ad, which has been viewed over 70 million times online after being blocked from TV by broadcast approval body Clearcast.