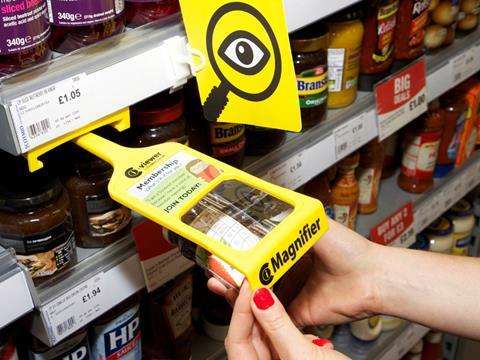 Scotmid has introduced i-viewer magnifiers to its shelves to help people with poor vision read labels on food packaging.
The Scottish co-op society has been trialling the in-store magnifiers in six stores across Edinburgh over the past few months, but will now install the devices in seven additional locations following positive feedback from customers; 75% of those interviewed said they would find i-viewers helpful.
The device fits onto the unused part of store shelving and is withdrawn from its holder when a customer wants to use it. It has a lens with two-times magnification and a five-times magnification bubble lens.
"Being able to read the small print on food labels is a concern shared by many of our customers, particularly for people with restricted diets or allergies to certain ingredients," said Mike Gordon, head of store development at Scotmid.
"The i-viewer devices will give our customers with sight problems the peace of mind that they are able to make the right food choices."
Ian Welby, from i-viewer, added: "Today's legislation means manufacturers have to include more and more information on their products. In order to do so, they are resorting to using ever smaller text sizes to fit this on the label. This has significantly disadvantaged the shopper who needs to read such information.
"People are now, more than ever, aware of what goes into the products they buy. This and the growing list of allergies and special dietary requirements means i-viewer will allow shoppers to make informed decisions on their purchases and will make a positive improvement to their shopping experience," Welby said.
The i-viewers are currently in Scotmid stores at Ratho, Broxburn, Barnton, Crewe Road, Ferry Road and Stockbridge, and will be rolled out to Easter Road, St Margarets, Beauly, Coupar Angus, Moredun, Hunterfield and Lazonby over the coming weeks.