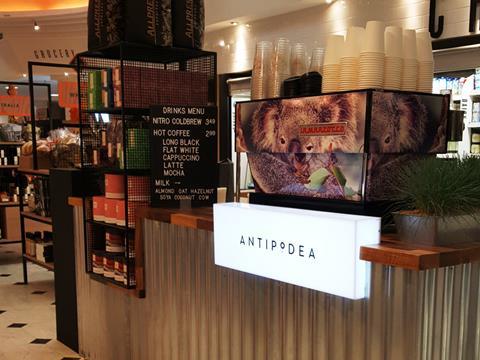 Selfridges has launched a campaign inspired by Australia's food trends, including introducing 140 brands and two pop-up cafés.

The department store has begun stocking a range of 140 Australian products and brands in its London store's Foodhall, from British and Australian suppliers.

The first pop-up of the campaign opened earlier this week, and is serving Australian coffee such as flat whites and long blacks from Australian brasserie Antipodea. The second, Farm Girl, will offer speciality rose and lavender lattes and butterfly matchas, which are bright blue in colour.

Vegan and gluten-free snacks will also be available from Farm Girl, such as jackfruit tacos and coconut BLTs, when it opens on 25 June.

Selfridges Foodhall stands are also part of the campaign, with Eat serving molten cheese toasties with Vegemite and Lola's cupcakes offering Tim Tam and Milo cupcakes. Its bakery counter, meanwhile, will stock Australian treats from Cocolicious, including lamington cake in a variety of flavours, from cookies & cream to chai.

To highlight the brunch trend kick-started by Australians, the Selfridges Australian campaign is offering customers several brunch dishes and drinks. The retailer has teamed up with brands such as Yorkshire-based coffee supplier Artemis to stock cold brew, and Golden Grind for turmeric-inspired drinks such as its coconut and cacao turmeric blend.

The store is also carrying a selection of condiments from artisan brands such as Doodles Creek Chutney and Yarra Valley to complement its Campbell Brothers butchers stand, which has stocked waygu steak and burgers from Australian suppliers Jack's Creek.

The campaign also includes a wine tasting event hosted by Selfridges' wine and spirits buyer Terry Threlfall on 18 July. Taking place in the store's Corner Restaurant and Champagne Bar, the event will offer customers a selection of fine Australian wines, some of which are exclusive to Selfridges.

The campaign will run until 31 July.

"Selfridges' latest Foodhall takeover celebrates the vast gastronomy of Australia, which has fast become world-renowned for its food culture," a Selfridges spokeswoman said.