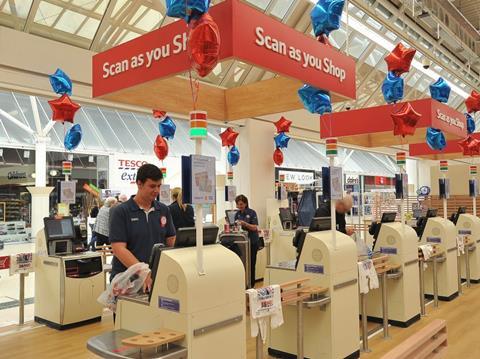 Tesco is to call time on the dreaded phrase "unexpected item in the bagging area" as it seeks to give a friendlier feel to its self-service checkouts.
The retailer is introducing a new audio voice to its self-service and 'scan as you shop' checkouts, following feedback from fed-up customers.
It said the machines would be "friendlier, more helpful and less talkative" and would not use the infamous phrase.
First introduced in 2003, Tesco now has over 12,000 self-service checkouts but it admitted the current voice messages it used had become a "source of frustration" for customers, with some describing it as "shouty" and "irritating", and putting them under pressure as they finish their shop.
The new voice used softer phrases and was more customer-friendly, it said, with six other "unhelpful" phrases including "please take your items" also biting the dust.
"Thank you for shopping at Tesco" has been added.
The new voice has already been installed in a small number of stores including Hatfield, Peterborough, Edinburgh and Kensington, and Tesco said it would be introduced in all of its UK stores by the end of October.
"Customers really like the convenience of our self-service checkouts, especially when they're just popping into store to pick up lunch or a few items after work," said James Dewen, self-service checkout operations manager at Tesco. "But for some now we've realised the voice leaves them a bit frustrated.
"It's listened to by millions of customers every week, so we've acted on customer and colleague feedback and worked hard to get the new voice right to improve the shopping trip."