This article is part of our Breakfast Digital Feature.
The cooked breakfast has bulked up. Occasions featuring eggs, beans, bacon and sausages are all on the rise as it sheds the unhealthy image – synonymous with greasy spoon cafés and overweight builders – and presents itself as a beacon of hope for dieters and gym-goers.
Eggs have been the standout winner featuring in 107 million more breakfast occasions than a year ago [Kantar Worldpanel 52 w/e 21 June 2015].
"Eggs have always been a fundamental part of British breakfasts, with around a third of eggs consumed at this time, but the increasing popularity of eggs for dieters has been one of the key drivers for the recent growth in egg consumption," explains Andrew Joret, British Egg Industry Council chairman.
"Eggs are now widely recommended by health experts as part of a healthy diet, with scares over salmonella and confusion around cholesterol a thing of the past."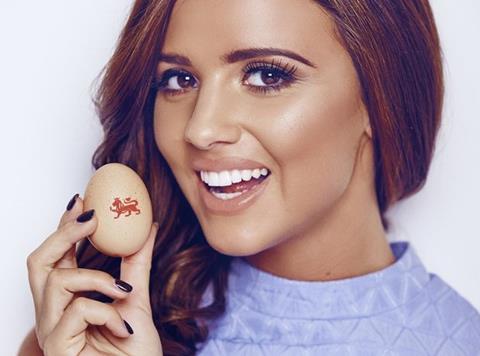 A campaign for British Lion eggs featuring TV star and fitness entrepreneur Lucy Mecklenburgh (pictured) has also helped engage a younger, female audience through social media.
But eggs aren't the only product to benefit from the changing perception of healthy eating. Breakfast occasions featuring fresh bacon and sausages are up 3.8% and 15.3%, respectively.
"Working with industry associations like the BMPA, much has been done to reduce the salt content in bacon and as consumers become more educated in the healthy eating benefits protein offers, many more are reaching for protein-rich foods like red meat, particularly trimmed back bacon, which is extremely lean, to keep them full until lunchtime," says Mick Sloyan, pork strategy director at AHDB.
| | Occasions (m) | y-o-y% |
| --- | --- | --- |
| Eggs | 1,543 | 7.4% |
| Bacon rashers | 631 | 3.8% |
| Table sauces | 408 | 13.7% |
| Sausages (fresh and frozen) | 298 | 6.7% |
| Baked beans | 194 | 23.2% |
| Tomato products | 52 | 4.9% |
| Total cooked breakfast | 2,015 | 7.0% |
He also notes the positive effect that changing lifestyle and social habits, which sees more time dedicated to enjoying meals together at the weekend, has had on meat consumption at breakfast, fuelled by influence from the US of making an occasion out of brunch.
However, the lack of portability poses one potential barrier to the cooked breakfast, as increasing numbers of consumers are carrying breakfast out of the home. Kerry Foods is using its Wall's brand to help overcome this.
"The breakfast occasion provides wholesalers with a key opportunity, as hot food is now being bought by as many shoppers at convenience stores for breakfast as chilled food to go," believes Clare Bocking, sales director for convenience at Kerry Foods. "It is crucial for retailers to ensure that their breakfast offering caters to consumers looking to grab a tasty and convenient breakfast option."
Wall's is keen to highlight its breakfast credentials, claiming that 72% of consumers buy Wall's with breakfast in mind. To cater to the on-the-go crowd, it had launched a Ready To Eat range, which includes a Sausage Bap and Breakfast Muffin, which can be grabbed on the go and heated at work, school or home.
On-the-go options for eggs are also popping up, with boiled, poached and even scrambled egg protein and breakfast pots being popularised by foodservice outlets. It seems the cooked breakfast's transformation is an ongoing one.
In association with: