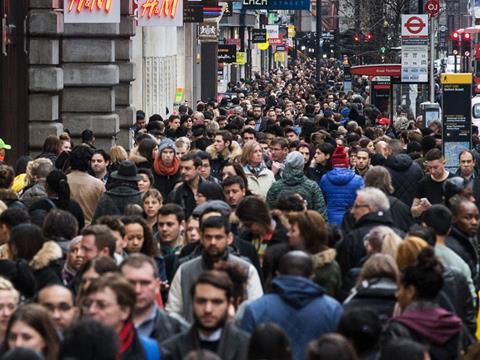 The Christmas sales no longer command quite the same attention as in the past but high street footfall was a bit like the weather: schizophrenic. Boxing Day saw 22 million people hit the sales, an 11.7% rise in year-on-year footfall [Springboard]. The Telegraph contrasted these figures with a PCA Predict report, which claimed online shopping numbers had fallen 3%, though more shoppers ventured out in the afternoon as "they were using the first few hours of the day to search for the best bargains online and then ventured into the stores to purchase" said Springboard.

The Sunday Times reported Selfridges had the 'most profitable hour in its 100-year history' on Boxing Day. It attributed "surprisingly positive" footfall to the warm weather as much as the offers, plus the fact half the West End shoppers were tourists.

The high street's joy proved short-lived, however, as the very next day year-on-year footfall plummeted 17.9% [Springboard], causing the Mail to dub the rush to the shops a 'one-day wonder' and claim retailers were 'engulfed in post-Christmas gloom'. The papers blamed the weather (drizzle in the South, flooding in the North) the internet (everyone reasoned that one day was long enough away from their computer), and Sunday trading (27 December 2014 was a Saturday).

Away from the high street, 27 December saw the long-mooted completion of the £80m Müller-Dairy Crest deal, causing the Mail to report, like a latterday Captain Mainwaring, that 'the daily pint is to be delivered by the Germans across much of the country'. Müller's acquisition, which received the CMA go-ahead in October, saw it take control of four dairy sites and 72 depots, as well as Frijj.

Tesco ended another difficult year on a bum note, as one of its biggest stakeholders continued a major sell-off of Britain's biggest supermarket's stock. Run by Norges Bank, the Norwegian government's pension fund sold a further 27 million Tesco shares just before Christmas at a value of £40m. That brings the running total of Norges Bank Tesco disposals to an impressive 83.5 million shares since August, valued at £125m. Tesco's share price was down from 210p when the sell-off started to 151p on Christmas Eve, an 11-year low, and it's since sunk even lower.

More vague reports on Amazon's UK grocery expansion plans also continued Ocado's three-month-long share price slump, with "thousands" of new grocery lines to be added to the 4,000 on Amazon Pantry, and a Delphic promise from UK boss Chris North to launch Amazon Fresh "when we have got the offer right, and the economics".

On 29 December the Mail reported that e-cigarettes may be 'no better than smoking regular cigarettes'. Dr Jessica Wang-Rodriguez of the University of San Diego in California says their tests revealed e-cig vapour can cause damage to lung cell DNA that shows signs of an "inevitable progression" towards cancer. Six days later e-cigs won approval as a 'medicine' in the UK.

Also on the health front, a report leaked to The Sun gave us a sneak peak of this month's redrawing of alcohol consumption guidelines suggesting a pint and a half will be the new daily alcohol limit for men (effectively cutting men's recommended weekly unit consumption from 21 units to 14 - the same as women). Chief medical officer Dame Sally Davies is expected to say there is no longer a 'safe limit' for drinkers and that even small amounts can cause illness.

Peta claimed Revlon and Estée Lauder were testing their cosmetics on animals in China. Apparently Chinese law requires cosmetics are tested on animals in government labs.

Finally, there were lots of food-based predictions for 2016 in the papers, including Cornish pastis, edible charcoal and a new Nigella who hails from Ukraine. Oh, and Nigella herself has ditched plates for bowls.