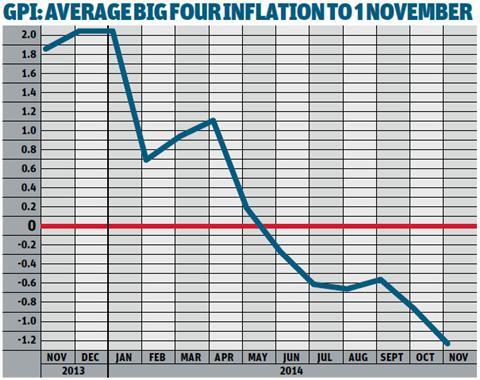 Food prices hit new lows last month as the big four supermarkets experienced the highest rate of deflation to date in October.

The rate of annual inflation dropped to -1.24% in the month to 1 November, according to the Grocer Price Index (GPI), an unweighted measure of 70,000 grocery products for sale in the leading supermarkets.

The figure marks the sixth consecutive month of falling prices and the rate of deflation across the big four last month easily surpassed the -0.87% decline recorded in the month to 1 October.

Inflation is more than three percentage points lower than the same month in 2013, when it stood at 1.89%. All the big four saw significant deflation last month as aggressive price cutting helped overall grocery prices tumble.

Morrisons led the pack, with price falls of 2.27% year on year - more than double its highest previous monthly rate of deflation. And this further acceleration comes despite some of the 1,200 items it originally locked down increased in price, as well as one-off vouchering promotions.

But the other mults are also seeing strong price deflation: Sainsbury's recorded its highest rate of annual deflation rate at -1.26% and Asda saw prices fall to -1.38%. Tesco posted annual deflation of -0.81%, though this was actually behind the -1.24% it recorded in the month to 1 October. Waitrose, not included in the overall GPI figures, saw prices fall -1.13% over the month.

Price cuts were more evenly spread across the 14 GPI categories than in recent months, with fruit & veg (-2.63%) and chilled goods (-2.16%) leading the way. Significant inflation was only seen in one category (baby goods, up 2.68%), but recent price falls in frozen products were reversed as the category edged up 0.07%.

Morrisons saw 5%-plus deflation in biscuits, confectionery and snacks (-6.5%), fruit & veg (-6.65%) and frozen goods (-9.74%). The overall month on month rate of inflation was -0.46%, with Morrisons again seeing the highest price falls (-2.18%) and Tesco seeing month on month inflation edge back to positive territory of 0.66%.

Falling prices - which are also partly attributable to the lower cost of a number of key food commodities - have yet to win back sales, with the latest Kantar report showing the big four in negative growth for the first time.

Nevertheless, the supermarkets have vowed to continue their efforts to become more competitive on price. Earlier this month, Morrisons CEO Dalton Philips said he was encouraged by the retailer's strategic progress despite a 6.3% Q3 like-for-like sales fall, while Sainsbury's boss Mike Coupe pledged to invest £150m per annum in price last week.