If Community Shop doesn't look like a supermarket from the outside, it makes up for it once you get through the doors. Its aisles are bulging with products from almost all the major supermarkets.
In a surreal inversion of the usual juxtaposition on-shelf of big brands, Asda own-label products sit alongside Tesco lines, while Morrisons snuggles up to M&S. Odd enough in itself, but what's full-on crazy are the prices. Everything you would expect to find in a supermarket is here - yet costs 70% less on average.
And that's not because the shelves are dominated by basic lines. While the odd M Savers or Tesco Everyday Value item is dotted around, the smart purple livery of Asda Extra Special is far more prevalent - as is M&S, Co-op Truly Irresistible and Tesco Finest.
So how is Community Shop able to offer premium products at prices that would make even the hardest discounter wince?
Community Shop is the brainchild of John Marren, who has operated residual food giant Company Shop for 43 years. Under the Company Shop model, manufacturers who contribute surplus food to the £35m turnover network of 40 shops can have a Company Shop on their own site and offer discounted food to employees.
Inevitably, charities were constantly calling looking for surplus food, says Sarah Dunwell, director of environment and social affairs at Company Shop, but the "contracts we had forbade us from doing that it had to be sold to staff shops". So Community Shop was dreamt up to "bring the shops out of the factories on to the high street, and open up membership from within the food industry to people in food poverty".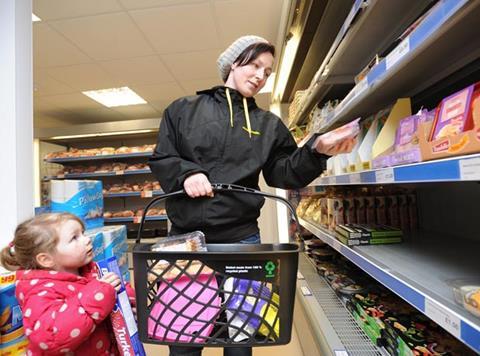 The first store opened on 8 December in Goldthorpe, Barnsley, to "fantastic" publicity, says Dunwell. "At one point we had Sky, ITV, BBC, Channel 4 and Al Jazeera in here filming, and I've got a Chinese TV crew coming next Wednesday, because last week they misread the map and ended up in Barnet not Barnsley!"
The reason for the media frenzy is that this 'social supermarket' is a UK first. Membership is capped at 500 and limited to jobseekers, those in work but on benefits and those on pension credits who live within half a mile. The tight radius reflects the fact that the store is located in a "really tough, deprived area, with complex, chaotic needs".
Running the store is equally complex. Because the store sells surplus stock, it is impossible to predict what will arrive or what volumes it will arrive in.
The majority ends up at Community Shop for cosmetic reasons. Dunwell picks up a jar of sauce labelled 390g instead of 200g. "Someone has put the wrong label on it. Asda can't sell it, but the product is perfect."
Sometimes there is not much remaining shelf life, which means "constantly balancing the algorithm between what we have and the date on it", as well as regularly slashing prices and changing the layout. Dunwell points out a 750g pack of Tesco mince. "We do this for £2, by lunchtime £1, by 4pm two for £1, until they're gone. The last thing we do is waste food."
Layout is played by ear. "We don't know what's coming, so there is no layout plan. It's really hard work."
Maybe so, but today the 1,800 sq ft shop is well merchandised, thoughtfully laid out and spick and span. "We didn't want it to look like a charity, or an Eastern Bloc shop in the 1970s, so we laid a new floor and ceilings," says Dunwell, adding that the new counter with two tills was donated by shopfitter Hartes.
Although Dunwell welcomes these donations, she stresses it isn't a charity. It's a "social enterprise that will unashamedly make a profit", which will be ploughed back into the operation so it can grow.
European precedent
Company Shop was encouraged to make the move by Europe, which has favoured similar operations to Community Shop over foodbanks as a way of addressing food poverty for 15 years. "Europe thinks we're mental throwing away food but asking middle-class people to buy more at retail prices and donate to a foodbank," says Dunwell. "So we started with a blank piece of paper and said: 'We have lots of hungry people and lots of surplus food. How do we bring them together?'"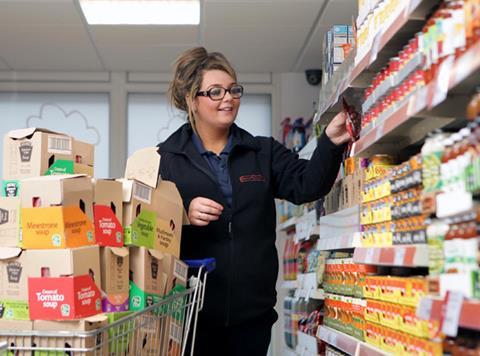 Marren weighed in with £225,000 to fund the project. His buying and trading team source the produce, guided by the Community Shop team who advise what they need more of (usually milk, bread, fresh fruit & vegetables, and sugar). Company Shop also handles the complex logistics network, which was crucial to the pilot getting off the ground.
All of this would be in vain, however, were it not for the retailers and the manufacturers. Deals are struck with manufacturers, who receive a nominal amount for surplus that they would otherwise have to pay tax on to send to landfill.
Ocado is a major contributor. Instead of returning customer orders that can't be delivered for any reason to its warehouse to be re-picked, Company Shop pays a "standard fee per tote" to Ocado and gets the delivery instead. Company Shop then sends any store cupboard essentials in the Ocado totes straight to Community Shop because, as Dunwell points out, budget meal planners assume people already have basics like chopped tomatoes in their cupboards, but her customers don't. Morrisons will have the same arrangement with Community Shop now it is online.
Fresh approach
Dunwell also wants to source more fresh produce. Community Shop currently gets its fresh fruit & veg from Ocado when it "purges" its warehouse of anything with less than a five-day shelf life and sends it to Community Shop, saving it from landfill or anaerobic digestion. She would like others to follow suit. "We should be feeding fit-for-purpose food to people," she argues. "Surplus is part of manufacturing. It's not waste. If it's in date, call us. We can buy it."
Although manufacturers quickly came on board, retailers were initially more cautious, although today only Sainsbury's is holding back. Dunwell is hopeful she can get the retailer to visit the shop, show it how things work and encourage it to contribute.
Retailers are concerned about the possible impact on local market share, says Dunwell, but they shouldn't be. "The people who shop here don't shop at Asda, let alone Sainsbury's," she points out. "They bounce from the Salvation Army to the foodbank. There is an Asda supermarket over the road and we've had no impact."
She also says any participating retailer or manufacturer can "tick its corporate social responsibility box" by taking part, because "we care about our customers" - evidenced by what goes on upstairs.
This month, Community Shop opened a café and cooking school on the first floor and started to offer advice on debt, addiction, health and domestic violence. "Cheap food draws them in, but it isn't enough to change a community. Once we get them upstairs we can work on the issues that brought them to food poverty."
Not in a belittling way, however. She laughs off one article that appeared after the shop opened, which suggested shoppers buying a ready meal lasagne would be approached by a member of staff carrying the ingredients to make a fresh one. "That would be extremely patronising. We wouldn't do that. This place is about dignity, these people are members and that means being a part of something that matters. This place exists to have a positive effect on Goldthorpe."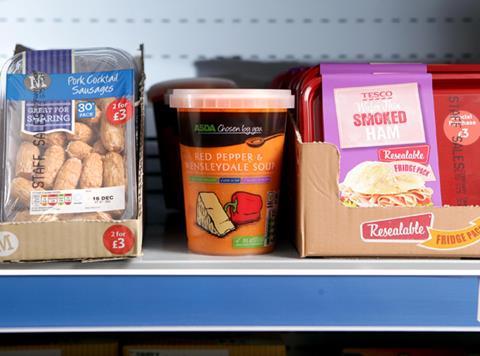 Not everyone in Goldthorpe welcomes the shop, however. Following the launch, some locals grumbled about not getting access, but Dunwell says it deliberately capped the membership of the pilot store, so it could answer a series of "unknowns".
"Will we be able to source enough food? Will customers spend similar amounts to the customers at Company Shop? And how often will they shop? At Company Shop they do a big shop once a fortnight, here they shop twice a day as money trickles in."
She also adds that, to begin with, the retailers and the manufacturers wanted "a clear understanding of the operation to continue to support it, so everyone agreed to cap the numbers for the pilot at 500 to keep it simple".
There was also concern that too many members could compromise the quality of support offered. "The team downstairs want more shoppers because they have stock that needs shifting. Upstairs say, 'Whoa, we want to help the members, not just sell them cheap food'. That balancing act is the greatest challenge ahead."
There are likely to be further challenges as the operation expands. It is hoping to open 20 stores across the UK, including six in London - so any calls from retailers with "graveyards of stainless steel, old racking, or chillers" would be welcome, says Dunwell.
The planned expansion will start at Easter, in London, providing Goldthorpe proves "sustainable and workable". First-week sales hit £2,000 with an average spend of £7, which puts it on target. It also has backing in high places. Dunwell sits on the London Food Board, which advises Boris Johnson, and the London launch is its "flagship project" for next year.
Before then, Dunwell is focused on "getting Goldthorpe going". In the next couple of months, the "retailers, manufacturers, academics and everyone involved will sit around the table and examine how Goldthorpe has worked and identify the challenges. Then we can ask 'Where do we go from here?'"
For all those struggling to feed their families, the answer hopefully will be London and beyond.
Price check:
| Product | Regular price | Community Shop price |
| --- | --- | --- |
| M Savers macaroni cheese | 80p | 19p |
| Heinz soup sachet | 59p | 20p |
| Asda Chosen by You chilli con carne sauce | £1.28 | 19p |
| Tesco tortilla chips | £1.29 | 19p |
| Asda fresh tortellini | £1.50 | 75p |
| Asda turkey joint | £10 | £3 |
| Tesco streaky bacon | £2.69 | £1.50 |
| Morrisons skimmed milk 1pt | 49p | 19p |
| M&S chicken kiev | £3.99 | £1.99 |
| Green & Black's chocolate | £2 | 89p |
| Dorset Cereals 670g | £3.69 | £1.90 |
| Tesco marmalade | 59p | 20p |
| The total bill: | £28.91 | £11.19 |