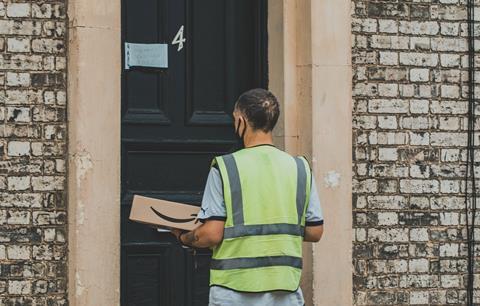 Online retailers have warned plans to include them in the rollout of deposit return schemes will cause chaos to operations and blunt the speed of emerging rapid delivery services.
An official report, prepared for the Welsh government, warns requiring food companies to act as kerbside "take back" services will have a major impact on delivery times. The report is based on consultations with retailers and major suppliers.
As well as taking back their own containers so deposits can be reclaimed, any retailer operating an online delivery would have to take back those from any other retailer.
The report suggests Amazon deliveries could be delayed by up to 20 seconds on each delivery, which when multiplied by large numbers of deliveries each day would cause significant delays and require more drivers, causing environmental harm.
But the decision to include online will mean supermarkets who have online services as well as stores will also have to take back empty containers.
Scotland is set to become the first country to press ahead with DRS next summer, with Wales and England due to follow suit in 2024.
A consultation report by the Westminster government on its plans, including whether to include online, is due out in the next few weeks, with sources suggesting it too will look to include online deliveries.
The report to the Welsh government, which included research from the likes of Asda, the BRC, the BSDA and Ocado, said the includion of online was "particularly problematic" for online retailers without bricks and mortar space.
It added: "One online retailer highlighted the fact that online retail home deliveries are highly optimised, and if DRS legislation requires them to collect empty drinks containers, it would have a negative impact on their business."
"For brick-and-mortar retailers, having an RVM in-store does not satisfy take-back requirement; if they provide home deliveries the understanding is that they must also provide home take-back collections."
The report says under DRS, retailers that provide home deliveries will be required to provide a take-back service, organising the collection of empty in-scope containers from households.
"This was seen to be overly burdensome and would introduce logistical challenges, with the general sentiment that online retailers would essentially be replicating a waste collection system that is already well functioning."
The report found the situation was even more complicated when it came to consumers that used third-party delivery services, such as Deliveroo, to purchase groceries from larger retailers.
The ACS added that nearly 40% of its members also offered home delivery to customers who order over the phone, with 15% of them providing home deliveries through a third-party app service.
"They emphasised that a straightforward solution is needed, particularly as online grocery sales have 'skyrocketed' since the Covid-19 pandemic started," the report said.
One source involved in the consultation told The Grocer the decision to include online in DRS was a "nightmare".
"It's going to add a huge level of complication and cost," they said. "Anybody who is designated as being in scope of DRS because they are an online retailer will not just have to take back their own containers but take back potentially huge quantities of containers from other sources.
"There is a sense that the Scottish government are aware that that this is going to cause chaos but have decided to suck it and see.
"We are hoping that the UK government recognises this is a major problem and see common sense."