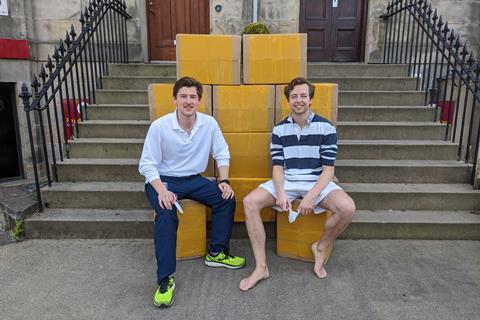 Face mask supplier Mask Bros is targeting listings in all major UK supermarkets, as it aims to become a household brand for high-quality, non-medical face coverings.
Mask Bros was set up by students Cogan Wade and Frederik Filz von Reiterdank to offer face masks at cost price and fight against price gougers.
"There are so many price gougers in the market but also so many anonymous sellers and people do not have any sort of visibility and control in terms of price but also quality," Wade told The Grocer.
The business started by buying masks in bulk directly from manufacturers as cheaply as possible, and reselling them to customers for the same price. A £1 flat fee is added to shipping costs to maintain the website, cover costs and compensate staff.
Since launching a week ago, Mask Bros has now shipped over 130,000 masks fulfilling both consumer and bulk orders, and is now planning to become the household name for face masks by manufacturing and supplying its own branded masks.
It is in negotiations with machinery manufacturers to ship equipment to the UK and produce its own masks domestically and has now set up a sales team to target retail listings for its branded range – liaising with the likes of Tesco, Sainsbury's and Morrisons.
"We thought it was weird there wasn't a real brand for consumers to supply masks," Wade added.
"In Asia it is extremely normal for people to wear a mask and that is really what we're going for. We want to establish ourselves as the Kleenex of masks.
"If we can offer the best quality product at an incredibly reasonable price then the sales will come."
Wade and von Reiterdank developed the idea for Mask Bros while working for a charity they set up called StudentsAgainstCorona.