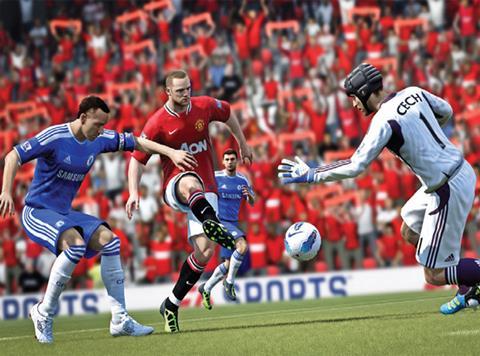 Tesco and Asda saw gaming sales fall in the 12 weeks to 25 September thanks to the launch date of Fifa 16.

Overall sales of games, videos and music, which make up the physical entertainment market, dropped at Tesco by 3.3% and Asda by 0.9% compared with the same period in 2015, according to Kantar Worldpanel.

Kantar's insight director Fiona Keenan said the variance was primarily due to the effect of Fifa 16's launch on 27 September, whereas Fifa 15 came out on 22 September last year.

Keenan said all the big four grocers had made real inroads recently into the gaming sector, which was the youngest, smallest and most male-dominated part of the physical entertainment category, and where performance was usually dependent on the launch of a key game.

Keenan said Argos continued to catch up as it moved into gaming, adding to the hardware it sold previously. It grew its share of gaming by 4.1% to 15%, and overtook Tesco's 10% share, with the lead remaining with high street retailer Game.

Gaming overall struggled in the face of competition from digital, whose sales grew another 12% in the 12 weeks to 27 September, accounting for 48% of the market with value, almost overtaking physical games for the first time.

Keenan said the physical games market could soon get a boost from the new generation of 4K gaming, which was likely to come at a higher price point and see the rise of virtual reality, attracting new shoppers beyond the stereotypical young male gamer.

"Nintendo's new Switch console, which we should see in the first quarter of 2017, also looks set to appeal to a wider audience and could reinvigorate the sector just as the Wii did 10 years ago," she said.

In physical video sales, a fall in shopper numbers hit sales further, though Sainsbury's managed to encourage consumers to buy DVDs more often during the past 12 weeks.

Blu-ray's share of video sales grew by 20% during the quarter, higher than at any point in 2015, with sales up 12% year on year as the big action release proved popular in these high definition formats.

"Sainsbury's was the big winner in Blu-ray, growing sales by almost a third, while HMV also grew ahead of the market with this format - up 14% year on year," Keenan said, adding that Sainsbury's sales had been helped by in-store marketing activity.

As far as music sales were concerned, HMV overtook Amazon in the 12 weeks to 27 September, to become the UK's largest physical music retailer. It grew its share of the overall physical entertainment market by 2.7%.