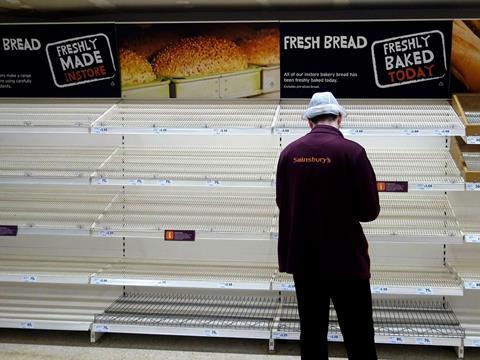 As is so often the case when the biggest events happen, the food and drink industry was right in the eye of the storm.
When the 'Beast from the East' rolled in from Siberia, the scenes outside had to be seen to be believed. But in stores it was just as shocking.
One supermarket with no bread, eggs and meat is the rarest of events in these days of ultra sophisticated supply chains – yet this scenario was played out at hundreds of stores, large and small, across Scotland, the south west, Cumbria and Wales. Even in London, a place where food shortages are normally associated with the Blitz, stocks of staple goods were running out at times last week.
Indeed the number of stores actually forced to close ran into dozens, as thousands of staff found themselves facing polar treks just to get into work. Whether the resilience was down to staff heroically defying the odds, or because they feared they would have their wages docked, will depend on your perspective.
Yet stories of sleep-deprived workers keeping stores and DCs open by camping out in the store rooms were the talk of those in the industry. My brother-in-law found himself commuting temporarily for a few days on foot from my spare room, unable to make his usual trip to work at a supermarket warehouse.
For thousands of other displaced staff, the conditions were not anywhere near as luxurious.
Hundreds of HGV drivers tackled some of the worst conditions on record, many spending hours trapped on snow- and ice-bound carriageways, while there were heart-warming individual tales of truckers helping stranded motorists on the motorways. Some delivery drivers trudged miles up country paths to reach cut off pensioners. And c-store managers became in effect a lifeline to their communities, doing their best to keep them going despite the shortages, even though one Spar manager (who must have been one of many) said he had not had any deliveries for five days.
Yet it was not all about the Blitz spirit. In some stores there was a tangible feeling of unease, bordering on panic, among shoppers. I personally did not see any actual violence but it was all too much like those scenes from Black Friday a few years ago, only this time instead of flatscreen TVs, families were getting close to brawling over the last white sliced loaf.
In-store bakers peered out in trepidation, with a look suggesting some of the shoppers might eat them if they didn't get a shift on.
The lowest of the low had to be the gang who used a JCB digger to smash their way into a Lidl store in Ireland, which was then looted by the locals, although this seems more like a backhanded compliment to Lidl's improved quality than a weather related incident.
Elsewhere, hordes of social media users hardly covered themselves in glory as they took to Twitter to rant that their Tesco deliveries had been cancelled, meaning they didn't have anything for that night's supper. Fortunately for the world, others shoppers were able to maintain more of a sense of perspective.rics
Today, as normality finally returned and businesses were left to count the price of a storm that is estimated to have cost the UK economy £1bn a day, the food and drink industry will be hoping it sees nothing like this again for many years to come.