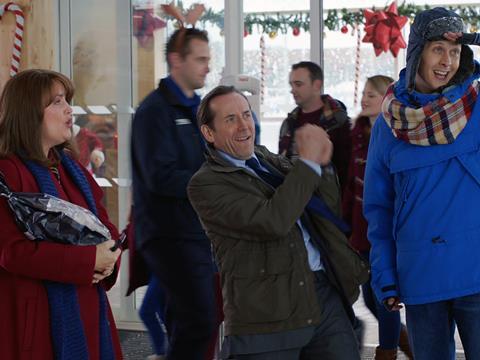 It was meant to be a blue Christmas for the listed supermarkets, but this week Tesco, Sainsbury's and Morrisons defied expectations and cheered the City with strong festive trading updates.
Morrisons' 0.2% like-for-like sales growth for the nine weeks to 3 January was its first rise in like-for-like sales for four years; while Tesco's 1.3% was the first positive like-for-like sales increase for the UK business since December 2013.

The results "blew away" analyst predictions. Morrisons like-for-likes were forecast to fall 2%, following a 3.1% decline over the previous Christmas.

But a greater focus on everyday value, running fewer multi-save promotions and providing bigger packs, particularly on key lines such as festive veg has turned that round, said new CEO David Potts. Morrisons also noted strong sales of premium products and a successful category reset in beers, wines and spirits. These cheaper alcohol prices helped drive transactions at its core supermarkets up 1.3%.

"We are on a long journey… we will make progress by being more competitive and serving our customers better, but the trading journey is unlikely to be in a straight line," said Potts.

Tesco CEO Dave Lewis put its improved performance - including a 3.5% increase in volumes - down to "lower prices, an outstanding range, record availability and… the best customer service in many years".

Availability over Christmas was 4% higher in Tesco than 12 months earlier, reflecting improvements in the way the business and its distribution was being run "under the hood", he added.

Lewis also claimed Tesco had successfully fought back on price and was 5% cheaper than last year on key Christmas items, with overall prices down 2.0% to 2.5%.

Sainsbury's sales also improved over the last quarter. Although its like-for-likes were down 0.4%, the supermarket's like-for-likes have steadily improved each quarter following a 2.1% loss in Q1 and 1.1% in Q2.

CEO Mike Coupe said Sainsbury's was in volume growth but that it was hit by deflation in the market. "Food deflation and pressures on pricing will ensure the market remains challenging for the foreseeable future," he said. "We will continue to remain competitive on price."

Sainsbury's was the strongest performing of the big four, according to the latest Kantar market share figures, with total growth of 0.8% for the 12 weeks to 3 January. However, its momentum tailed off towards the end of this period.

Asda had the worst performance of the big four over this period, with a 3.5% fall in sales.